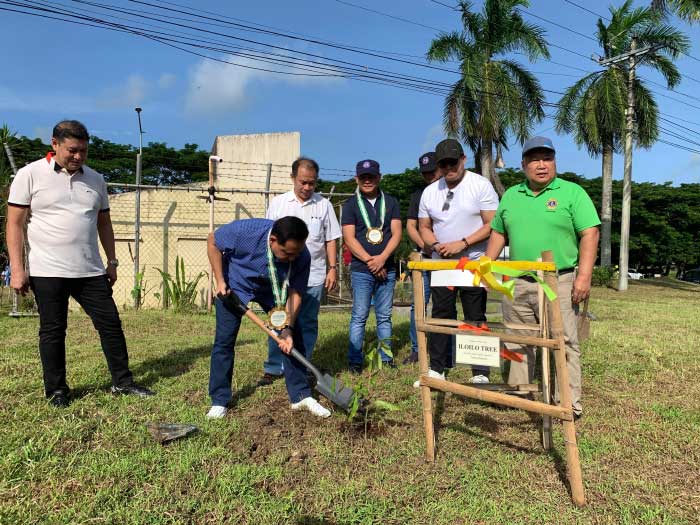 By Rjay Zuriaga Castor

Around 1,300 Philippine native flowering trees were planted synchronously along the national highway from the Iloilo International Airport to the city, which traverses the towns of Cabatuan, Santa Barbara, and Pavia on Friday.
Iloilo Governor Arthur Defensor Jr. led the "Tanum Iloilo and Urban Greening" program with a ceremonial planting of the "Iloilo Tree" (Aglaia argentea) of plant Family Meliaceae at the airport's entrance.
Other native trees planted include Ylang-ylang, Kasopangil, Malabago, Salinggogon, Siar, Labayanan, Bakan, Balitbitan, Bani, and Catmon, among others.
"This is a combined effort of Tanum Iloilo, the program of the province of Iloilo for sustainable forest management towards a forest province, and the urban greening program of Iloilo City,"
On July 10, the Iloilo Provincial Government, Iloilo City Government, Municipalities of Cabatuan, Santa Barbara, and Pavia, Department of Public Works and Highways-Region 6, and Civil Aviation Authority of the Philippines signed a Memorandum of Agreement for the "Greening of the Iloilo Airport Gateway."
Defensor said the initiative is not just a mere tree planting activity but a "tree growing" program.
He noted that the provincial government and other stakeholders will create a monitoring plan to schedule spot checks and ensure the sustainability of the planted trees.
Defensor also emphasized that efforts in sustaining and protecting the environment have always been a collaboration.
"When I started in 2019, all our activities were [a product of] collaborative [partnerships of our] national government agencies, local government units, and the rest of the private sectors. It is always a collaboration," he said.
He emphasized that Tanum Iloilo has been at the forefront of the reforestation efforts because of the help of various stakeholders. As of March 2022, it has already planted nearly four million tree seedlings since it was launched in 2019.
Mitzi Peñaflorida, senior environmental management specialist of the Provincial Government Environment and Natural Resources Office (PGENRO), said that an additional 400,000 seedlings have been planted from January to July of this year.