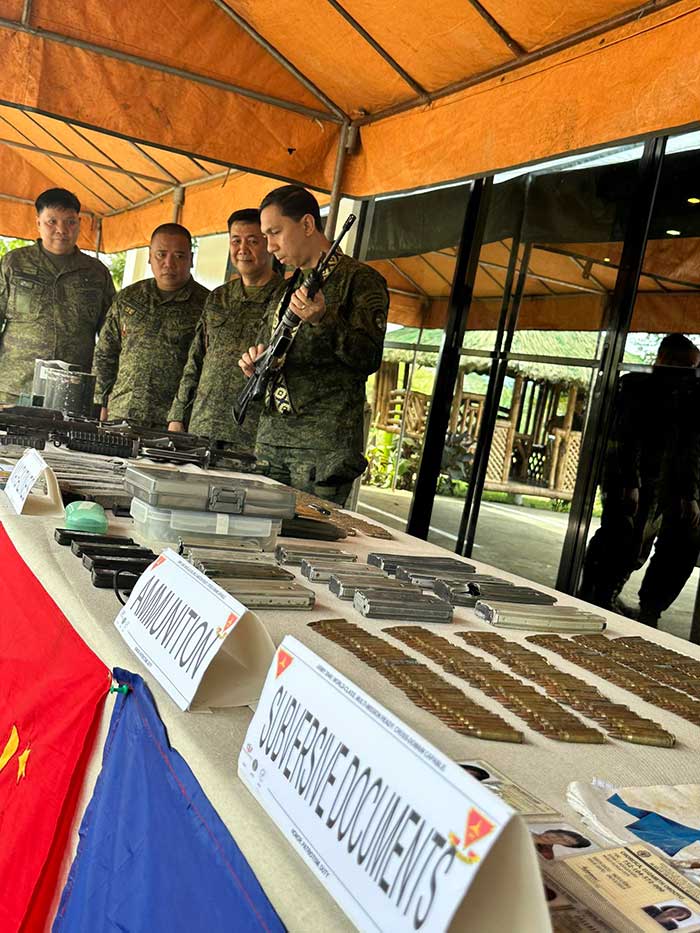 By Jennifer P. Rendon
In a month's time, soldiers from the 3rd Infantry Division were able to neutralize 30 rebels.
Sixteen of those neutralized were killed during operations while 12 surrendered to government authorities and two were arrested.
It was gathered that four of the 16 slain NPA rebels died in skirmishes in Iloilo province while six each died in Bohol and Negros clashes.
One of those killed was Azucena Choresca Rivera also known as Rebecca Alfaro and Jing, the secretary of the Komiteng Rehiyon-Panay's Southern Front, who died in a clash with the troops of the 61st Infantry Battalion in Leon, Iloilo, on Sept. 29, 2023.
Another fatality was Kerlan Fanagel, also known as Ely, whom the Army dubbed as "a known activist turned terrorist."
The 3rd said that Fanagel was an IP (indigenous people) organizer and secretary general of the Pasakaday Salugpungan Kalimudan (PASAKA) Confederation of Lumad Organizations in Southern Mindanao.
Fanagel, along with Ruben Nabas, a former vice commander of the NPA elite force in southern Negros Oriental, and a leader of the Special Partisan Unit (SPARU) in Central Visayas; and Nelson Lumantas alias Brando, secretary-general of the Hugpong sa Mag-uumang Bol-anon (HUMABOL), the provincial affiliate of the CPP-led Kilusang Magbubukid sa Pilipinas (KMP), were among the six rebels neutralized in successive encounters in Bohol on Sept. 7.
On the other hand, Alejo Delos Reyes, alias Peter/Bravo, Squad 2 leader of the Sandatahang Yunit Propaganda (SYP), South Western Front, Komiteng Rehiyon-Negros, Cebu, Bohol, Siquijor (KR-NCBS) along with five of his members, were killed in an encounter with the troops of the 47IB in Kabankalan City, Negros Occidental on September 21.
During the series of encounters, Army troops were able to recover 33 firearms and five explosives.
For Major General Marion Sison, 3ID commander, their relentless anti-insurgency campaign is about living up to their mandate of protecting the people and security of Western Visayas and Central Visayas.
The surrender of the 12 NPA members, who are remnants of the dismantled NPA's Northern Negros Front (NNF) on Sept. 29, also marked the anti-insurgency campaign of the 3ID for the month.
One of those who surrendered was a front secretary (whose identity was withheld for security reasons),
Sison attributed the success of the 3rd ID's anti-insurgency campaign to the collaboration among government forces, local government units, multi-stakeholders and the peace-loving people of Western and Central Visayas.
But the 3rd ID chief stressed that they find no pleasure in killing the rebels but were forced to in a bid to defend the peace-loving people of the Visayas.