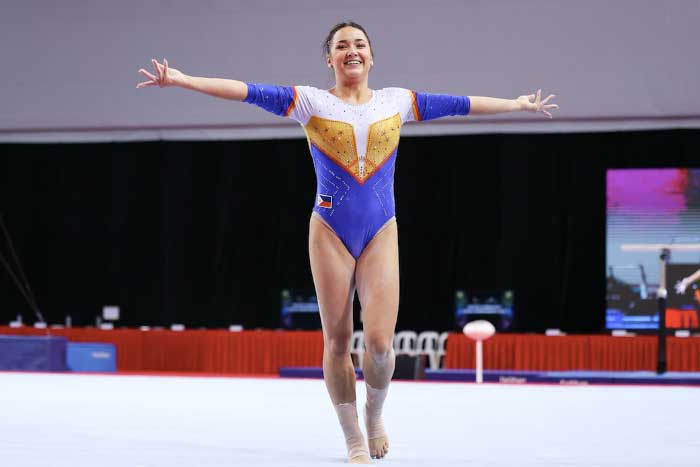 By Leobert Julian A. de la Peña
Two more Filipino superstars just joined Carlos Yulo in his trip to the World Gymnastics Championships to be held in Antwerp, Belgium this coming September.
The dynamic duo of Aleah Finnegan and Kylee Kvamme also qualified in the prestigious gymnastics tournament after a decent campaign during the Asian Artistic Gymnastics Championships held in Singapore last June 16, 2023.
Finnegan came up in the clutch and was able to secure the seventh place in the women's individual all-around category and tallied a total of 50.399 points.
Same as Yulo, the women participants in the Asian Artistic Gymnastics Championships will only need to enter the Top 8 to clinch a spot for the Worlds in Belgium.
Meanwhile, Kvamme figured in an entirely different situation when she was relegated to the top category despite only settling for the 14th spot.
Kvamme's qualification in Belgium came after the first seven higher-ranked gymnasts from China, Korea, and Chinese Taipei already nabbed their spots through the team event.
With that being said, the Filipina and the other aspiring gymnasts' ranks went up in the individual category, filling in the ranks of those who already garnered medals in the team event.
A couple of days ago, Yulo stole the show in Singapore after securing the silver medal in the men's individual all-around category.
Yulo registered a total of 85.93 points and replicated his achievement when he also nabbed second place in the last edition of the Asian Gymnastics Championships.
The Filipino superstar had his best moment during the parallel bars category when he amassed a total of 15.66 points.
In the floor exercise and the vault event, Yulo also came up with decent final run scores and got 14.966 and 14.866 points, respectively.