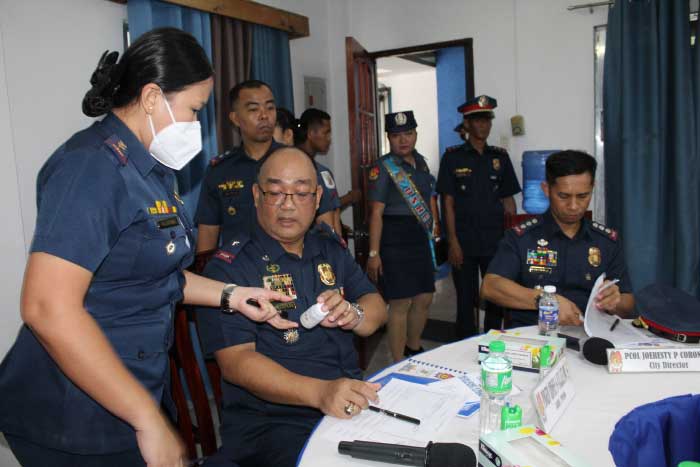 By Jennifer P. Rendon
Twenty-three ranking officials of the Iloilo City Police Office (ICPO) were made to undergo a surprise drug test afternoon of June 6, 2023.
Brigadier General Sidney Villaflor, Western Visayas police chief, led the drug testing.
Other officers who joined Villaflor were ICPO director Colonel Joeresty Coronica, members of the ICPO command group, station commanders, and staff officers.
The region's cop announced the drug test during his first command visit at ICPO on Tuesday.
"As I've said, if we want to be aggressive in our campaign against illegal drugs, everything should start from within the organization," he said,
As a commander, Villaflor said he must ensure that the men brought to the field to run after drug pushers should be free from illegal drugs.
He also vowed dismissal from the service of personnel who will be found positive for illegal drug use.
"No question asked. They should be dismissed from the service," Villaflor said.
But he clarified that the dismissal will be imposed if the same specimen submitted by the officer in the initial test also flunks the re-test.
More than a week ago, Villaflor also ordered all ranking police officers in Western Visayas to undergo a surprise drug test.
Among those who were tested were members of the PRO-6 command group – the deputy regional director for administration (DRDA), the deputy regional director for operations (DRDO), and the chief regional directorial staff.
Also tested were the chiefs of the regional staff, special staff, and four personal staff.
The most number are the chiefs of the different PNP nation support units (NSUs).
Days after, PRO-6 announced that they all hurled the drug test.