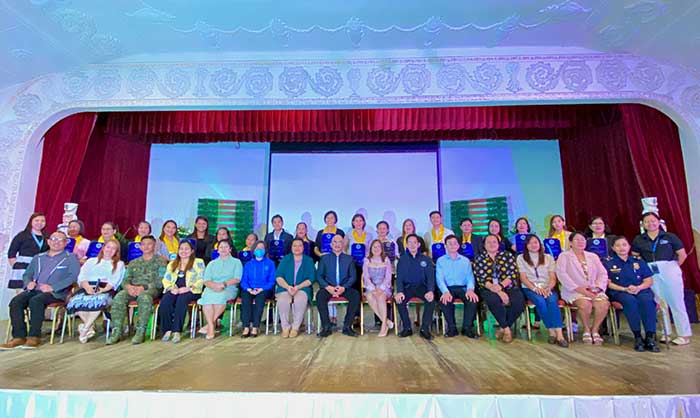 By Mariela Angella Oladive
The Department of the Interior and Local Government (DILG) awarded the Child-Friendly Local Governance Audit (CFLGA) seal to 25 local government units (LGUs) in Western Visayas during the culmination of the 31st National Children's Month (NCM) kick-off on November 8.
Among the outstanding LGUs that received the CFLGA seal are the towns of Anilao, Concepcion, Dingle, Dumangas, Igbaras, Lambunao, Oton, Passi City, Pavia, Pototan, Santa Barbara, Tigbauan, and Tubungan in Iloilo province: Buenavista, Nueva Valencia, and Sibunag in Guimaras province; Dao, Jamindan, Sapian, and Tapaz in Capiz; City of Himamaylan, Hinoba-an, La Carlota, San Carlos, and Silay in Negros Occidental province.
The CFLGA seal is a testament to the dedication of these LGUs to creating environments that prioritize the needs and rights of children.
The audit, which is an annual assessment, encompasses a grading system that evaluates the performance of cities and municipalities in implementing child-friendly policies, programs, projects, and services.
DILG Western Visayas Regional Director Juan Jovian Ingeniero highlighted the importance of the CFLGA, especially in fulfilling the mandates outlined in the local government code.
"The Child-Friendly Local Governance Audit (CFLGA) is a separate award, but this auditing is included in the seal of good local governance wherein kapag hindi ka pumasa rito hindi ka makakapasok sa top awards sa local governance," Ingeniero said in an interview.
Meanwhile, the DILG anticipates that more LGUs will be granted the CFLGA seal as the calibration continues this year.
The collaborative spirit among government agencies, local government units, and stakeholders is crucial in solidifying the collective commitment to ensuring the welfare, rights, and protection of the children in Western Visayas.