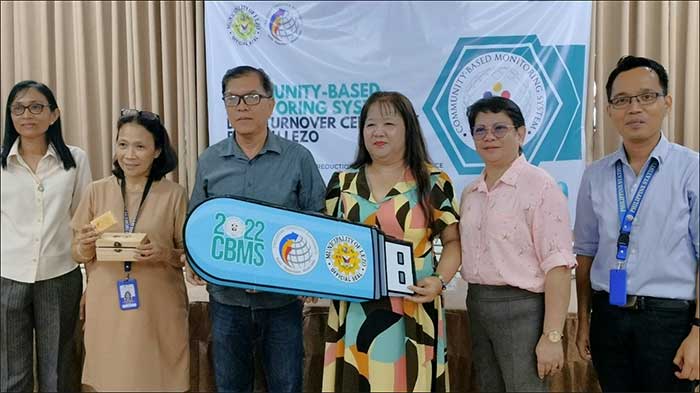 KALIBO, AKLAN. The long wait is over!
Three municipalities in Aklan, classified in a lower income level, have recently received a complete set of data compiled from the 2022 Community-Based Monitoring System (CBMS) conducted by the Philippine Statistics Authority-Aklan.
These three municipalities include LGU-Buruanga, Tangalan, and Lezo.
The handover of data was conducted through a Data Turnover Ceremony in each LGU on September 25, September 26, and November 3, respectively.
Present during the program were the top officials of the municipality, department heads, selected staff, and other stakeholders who witnessed the turnover ceremony which was graced by Ms. Nelida Amolar, OIC-Regional Director and Engr, Antonet Catubuan, Chief Statistical Specialist of PSA-Aklan.
One of the highlights of the ceremony was the presentation of key results of CBMS in their respective LGUs by Mr. Peter Mangilog, Senior Statistical Specialist and CBMS Focal Person in Aklan to give the attendees a glimpse of the various data gathered from this statistical undertaking.
It was also aimed at addressing concerns in the LGUs that need appropriate interventions and prioritization, such as access to electricity of households, internet connections, food insecurity, the schooling status of the school-aged population, safety and security, water, sanitation, and hygiene
Each municipal mayor delivered a message during the program, expressing their appreciation and gratitude to the PSA for successfully leading the data collection, processing, and compilation of data.
They conveyed that such comprehensive and granulated data in CBMS has long been awaited by the LGUs as a guide to craft and implement targeted programs and evidence-based policies in their locality.
With the CBMS data in the LGU, they now have a tool to monitor the impact of their programs and ensure that they reach the rightful beneficiaries.
Meanwhile, the Municipal Planning and Development Coordinators of each LGU outlined plans and programs for utilizing the CBMS data and the measures to secure them.
Among the identified uses of this data are updating their 10-year Comprehensive Land Use Plan, Comprehensive Development Plan, Climate and Disaster Risk Assessment, Annual Investment Plans, social protection programs, and infrastructure development initiatives.
The CBMS is an organized technology-based system for collecting, processing, and validating necessary disaggregated data while empowering communities to participate in the process.
It involves generating data at the local level, which serves as a basis for targeting households for government programs aimed at poverty alleviation and economic development.
Apart from the three LGUs, there are eight remaining municipalities that participated in the 2022 CBMS, in which their data is scheduled to be turned over before the year ends.