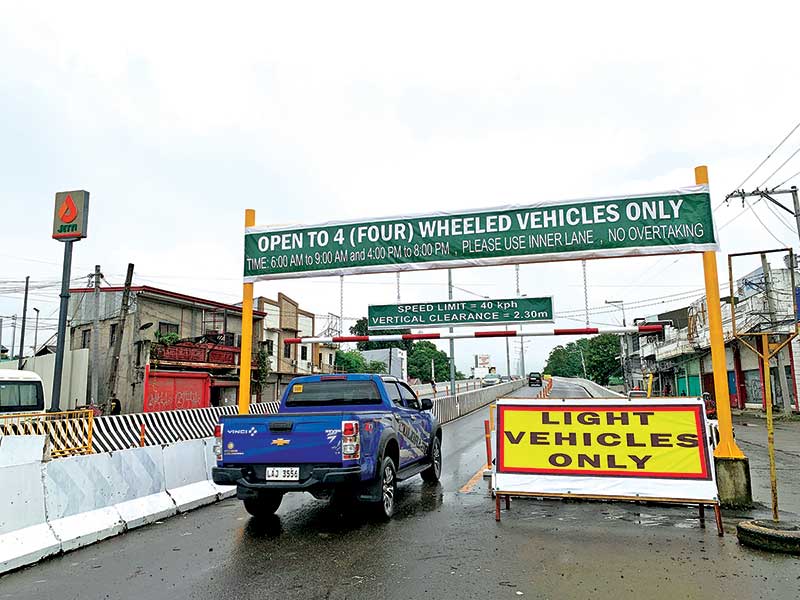 By Rjay Zuriaga Castor
The flow of traffic in the areas near the defective Ungka flyover in Barangay Ungka II in Pavia town has been smooth with the opening of the flyover to light vehicles on Friday.
Public Safety and Transportation Management Office (PSTMO) head Jeck Conlu noted a 50 percent improvement in the traffic flow in the Ungka flyover area.
"Kung kami magtan-aw sa traffic movement sang aton nga vehicle, more than 50% ang gin improve sang atun traffic situation diri sa may area sang Ungka flyover," he said.
Conlu is hoping that this development will continue citing that the ease in traffic congestion is bringing much-needed relief to commuters.
"Kung ma-experience natun before siya gin open, tama gid yah ka heavy sang traffic situation diri sa atun. Hopefully mag sige sige na ini kag kabay pa nga wala na sang vertical movement nga matabo diri sa area kay makita gid natun kung ano ang epekto kung open ini ang atun ungka flyover," he said.
The Department of Public Works and Highways-Western Visayas (DPWH-6) previously maintained that the flyover is safe, highlighting that no vertical displacements were detected during static and dynamic load testing this year.
Conlu mentioned that PSTMO's preparations primarily target the afternoon rush hour, as a higher volume of vehicles heads from the city toward the Pavia area during that time.
"Sa [PSTMO] ang amun naman gina preparahan, ang sa hapon naman. Sa hapon ma shift na ini siya. Sa hapon ang volume of vehicles halin naman sa syudad pagwa pakadto sa Pavia area which is nga mas madamo ang volume compared natun sa ini nga aga, very light traffic lang kita," he explained.
PSTMO only deployed four personnel, who are stationed to regulate vehicles that can use the flyover.
"Apat lang man nga personnel ang ginbutang natun diri subong […] Ang atun na man lang ginaubra, ginasaway na lang natun kung ano nga mga vehicles ang indi pwede magsaka sa atun flyover," he said.
The flyover is open to four-wheeled vehicles while motorcycles, tricycles, and bicycles are barred from using it.
In a morning incident, an ambulance's emergency light bar crashed with the overhead gantry at the flyover's entrance.
Citing the incident, Conlu said he would discuss increasing the vertical clearance of the flyover with DPWH-6 to ensure unimpeded ambulance access. The vertical barrier is currently 2.30 meters.
"I-discuss natun ina siya sa DPWH later nga basi pwede natun ma adjust gamay kay because importante man nga maka access ang atun nga ambulance diri sa flyover," he said.
Contrary to earlier pronouncements, the PSTMO head said modernized jeepneys are currently not allowed to use the flyover due to the vertical clearance, while traditional jeepneys are also restricted from using it since they load and unload passengers at nearby terminals at both ends of the flyover.
"Ang atun mga [traditional jeepneys] sa terminals na sila nagastop, naga unload/load sa atun pasaher. Kung magnaog ka sa approach sang atun nga flyover, indi kita pwede ka right turn dayun, ma cause ina siya sang danger, unsafe ini siya sa atun nga mga motorists so sa dalom gid na sila ma agi," Conlu explained.
He further appealed to all motorists to adhere to traffic rules and regulations to ensure safe and convenient travel.