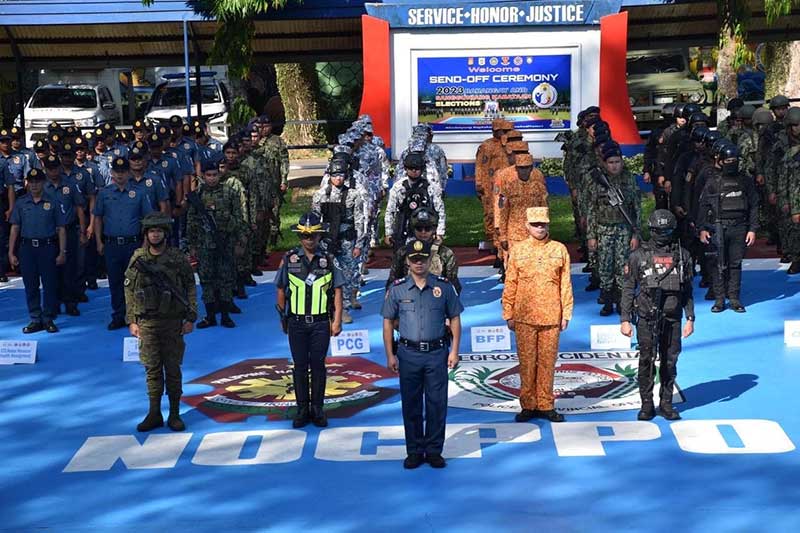 By Glazyl Y. Masculino
BACOLOD City – A total of 6,064 personnel were sent off here and in Negros Occidental yesterday for the Barangay and Sangguniang Kabataan Elections (BSKE) on October 30.
Of the figure, 5,011 will be deployed in the province while 1,043 will be utilized here.
The security forces in the province are composed of 2,176 personnel from the Negros Occidental Police Provincial Office (Nocppo), 2,119 soldiers, 575 personnel from the Bureau of Fire Protection (BFP), and 151 personnel from the Philippine Coast Guard (PCG).
The province has a total of 698 voting centers.
The provincial police force has started the initial deployment of personnel in every locality since August 28.
For Bacolod, Police Colonel Noel Aliño, director of Bacolod City Police Office (BCPO), said that all personnel will be on standby with no off duty, as they are currently on full alert status for the BSKE.
Aliño said that there was already a skeletal deployment of personnel, followed by a full deployment on the 30th.
Aliño said that 380 out of the 1,043 personnel of BCPO assigned for the BSKE were sent to Panay island for augmentation.
"Kailangan din sila doon. Tulong-tulong kami," he added.
He reminded policemen to ensure their presence 30 meters away from polling precincts and to exercise neutrality.
He said that they are targeting honest, fair, and peaceful elections here considering that the city has no areas of concern.
Also, he said that a liquor ban will be implemented starting 12 midnight on October 29 to October 30.
Meanwhile, Atty. Kathrina Trinio-Caña, city election officer, said that the Commission on Elections (Comelec) has served 19 show cause orders to BSKE candidates, mostly those running for SK here.
Caña said that these candidates allegedly posted campaign materials prior to the campaign period, which is illegal and prohibited.
Caña said they have not received complaints or reports for disqualification because the Comelec here has no jurisdiction over that matter, as these cases should be referred to the Comelec en banc.
She is hoping that peace and order will be sustained until the proclamation of the winning candidates.
She also reminded candidates that campaigning is prohibited a day before or on the day of the election, including the distribution of sample ballots.
She urged voters to vote wisely based on their conscience.
"Pabay-an ta ang tawo mag decide on their own, not influenced by money."
She said that those who may have concerns or complaints about vote buying may report through their Anti-Epal Task Force.
On the other hand, the Army's 303rd Infantry Brigade (IBde) also sent off their troops in Negros simultaneously at their respective headquarters last Thursday.
The Philippine Army as part of the Armed Forces of the Philippines (AFP) is one of the deputized agencies by the Comelec to ensure that the conduct of BSKE 2023 is orderly, peaceful, safe and secure for all voters to exercise their rights of suffrage, free from fear and intimidation by the lawless elements and threat groups in the area of responsibility.
The 303rd IBde and its battalions – 62nd Infantry Battalion (IB); 79th IB; 94th IB, 542 Engineering Construction Battalion and Alpha Company, 47th IB in partnership with the municipal, city and provincial Election Officers and other components of the security sector in Negros are trained and equipped to perform poll duties.
Based on the records, the province has a total of 51 Election Areas of Concerns (EACs).
Brigadier General Orlando Edralin, 303rd IBde commander, in his message, said they are now on full alert status and have always been ready and prepared to perform duties for any local and national activities such as the local, midterm and national elections.
"We have trained standby Alert Teams and Quick Reaction Forces that will prevent and be ready anytime to respond to any eventualities that may transpire in the area of responsibility," he added.
To all troops who will be deployed, you are expected to do your part in making this year's BSKE, a successful one with zero incidents. Any failure is not within our option," Edralin said.