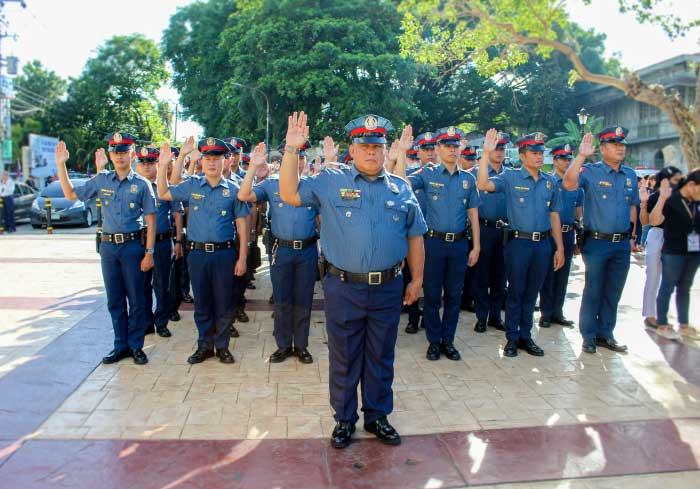 By Jennifer P. Rendon
Sixty-eight more uniformed personnel have added to the strength of the Iloilo City Police Office.
The 68 personnel were earlier downloaded from the Police Regional Office (PRO) 6 as part of its move to heighten police visibility.
The personnel are ICPO organic personnel that were on detached service with the PRO-6 regional headquarters.
All of them used to perform purely administrative functions.
Brigadier General Sidney Villaflor, Western Visayas police chief, said the 68 personnel are expected to complement the needed ICPO force in the advent of the poll period for the Barangay and Sangguniang Kabataan Elections (BSKE).
Villaflor's initiative is in line with PNP chief General Benjamin Acorda's 5-focused agenda.
"Under Community Engagement, we will bring our police closer to the community, where they are most needed," Villaflor said.
They are expected to perform different police operations on the streets of Iloilo City, such as mobile checkpoints, beat patrols, motorcycle patrols, mobile checkpoints, barangay visitations, and other functions that shall entail police visibility.
Others will be assigned to different vital installations in Iloilo City to ensure that every street corner will be properly posted.
"I expect them to perform their given task with zeal and dedication, especially this coming election," Villaflor said.
Colonel Joeresty Coronica, ICPO chief, formally presented the 68'personnel to Iloilo City Mayor Jerry Treñas during the Iloilo City Hall's Monday flag-raising ceremony.
It can be noted that Villaflor has earlier ordered the city and provincial police directors to put more uniformed personnel on the field.
During his subsequent visits to different police provincial and city in the days to come, Villaflor said he shall also keenly look into their units' personnel statistics and profile.
"I will implement the 85-15 ratio of deployment of personnel," he said explaining that only 15 percent of the personnel complement shall perform administrative duties while 85 while shall perform operational duties.
The 15-85% deployment of police personnel has been practiced even by previous commanders in a bid to maximize the availability of personnel for actual law enforcement and public safety operations.
The 85-15 day scheme will allow 85 percent of policemen to perform actual police duties, leaving only 15 percent to desk jobs.