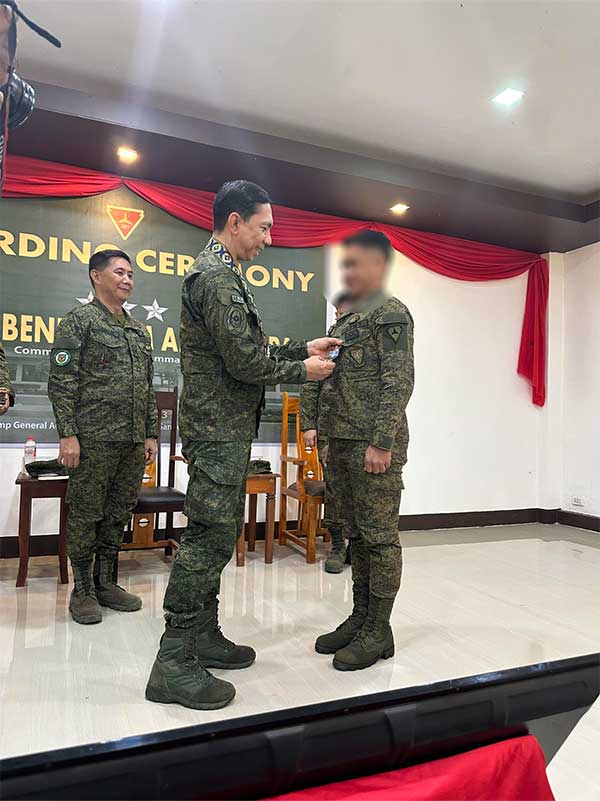 By Jennifer P. Rendon
Eighty-seven soldiers from different Philippine Army units in Panay Island received merit medals for their gallantry during a ceremonial awarding rite at Dingle, Iloilo on Oct. 3.
No less than Lieutenant General Benedict Arevalo, AFP Visayas Command (VisCom) commander, pinned the gold cross and silver cross medals to the soldiers who took part in successive operations against the New People's Army in Panay.
Nine military personnel (one officer and 7 enlisted personnel) received the gold cross medal.
The Gold Cross Medal (GCM) is a decoration of the Armed Forces of the Philippines which recognizes gallantry in action.
It is the fourth-highest military award in the Philippines.
Meanwhile, 79 others (20 officers and 59 enlisted personnel) received the silver cross medal.
Thirty-five recipients are from the 301sf Infantry Brigade, 31 from the 82nd Infantry Battalion, seven from the 12th Infantry Battalion and six from the 61st IB.
In a press statement, the 3rd Infantry Division said that "the said soldiers played a significant role in a series of encounters in Panay over the past quarters and months, leading to the neutralization of key rebel personalities and the seizure of various firearms in Panay Island."
Meanwhile, Arevalo also led the ceremonial pinning of Gawad sa Kaunlaran medals to 448 soldiers from the 61st IB.
Prior to the awarding ceremony, Arevalo visited the headquarters of the Army's 3rd ID in Camp Peralta, Jamindan, Capiz.
He also presented the Gawad sa Kaunlaran award to 3ID Commander Major General Marion Sison and other 3ID key officers for their meritorious and invaluable contributions to the AFP's socio-economic and other non-combatant activities.
Arevalo, who used to lead the 3rd ID, has commended the troops for doing their part in the government's anti-insurgency efforts.
"We, at the Visayas Command, are pleased with the successes achieved by the 3rd Infantry Division," he said.
Arevalo cited that the troops have had over a hundred encounters throughout the Visayas since January.
Only two soldiers were killed in action.
Sison, on the other hand, has assured that they would continue their relentless internal security operations in Central and Western Visayas.
"We are thankful to our Visayas Command Commander for recognizing the contribution of the 3ID in the overall peace campaign of the AFP in the Visayas region. The honor bestowed upon us is a testament to our efforts and dedication to end the decades-long insurgency and achieve genuine peace and progress in this part of the country. May this recognition motivate everyone to give their best effort in all that we do to provide the best possible service to the people," Sison said.