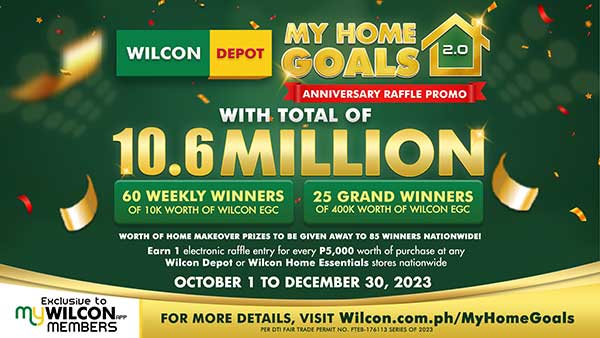 Wilcon Depot, the Philippines' leading home improvement and construction supplies' retailer, is taking its anniversary celebration a notch higher with "Wilcon My Home Goals 2.0 Anniversary Raffle Promo." As a way to give back to its loyal customers, Wilcon Depot is providing a total of ₱10.6 million worth of home makeovers to 85 lucky winners nationwide! This year's raffle promo will run from October 1, 2023, to December 30, 2023, Wilcon's most extensive and grandest yet.
"We want to express our heartfelt gratitude – in a way that genuinely reflects the Wilcon spirit of giving back to those who have made it all possible, our loyal customers," said Wilcon Depot SEVP-COO, Ms. Rosemarie Bosch-Ong.
With nearly 90 stores nationwide, Wilcon Depot is extending this astounding reward to its valued customers nationwide. Over the course of 12 weeks, P10,000 worth of Wilcon EGC awaits five (5) lucky weekly winners from Metro Manila, North Luzon, South Luzon, Visayas, and Mindanao. Additionally, during the grand raffle draw, P400,000 worth of home makeovers will be given to five (5) winners in each of the mentioned areas, summing up to 25 grand winners nationwide.
To be one of the lucky winners of My Wilcon Home Goals 2.0, customers can effortlessly earn a single (1) raffle entry for every ₱5,000 in purchases made at any Wilcon Depot, Do-It-Wilcon (Wilcon Home Essential) branches, or shop.wilcon.com.ph.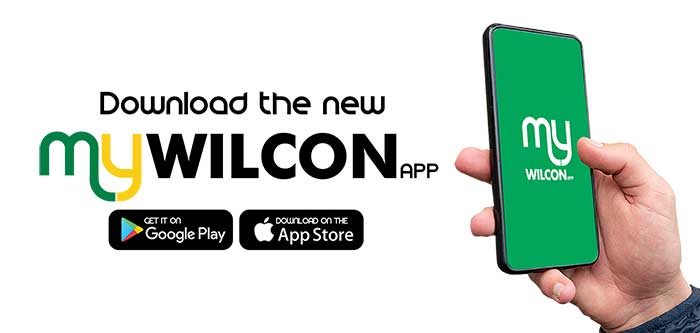 To be eligible for the weekly and grand raffle draws,  customers are encouraged to download and install the My Wilcon App, available on both iOS and Android platforms. Once a member of the My Wilcon App, customers must do a 1-time registration online by visiting: URL: https://raffles.wilcon.com.ph. Thereafter, all succeeding qualified purchases shall automatically be issued digital entries to join the raffles.
For years, Wilcon Depot has played a crucial role in helping Filipino homeowners and builders bring their dream homes to life. With "Wilcon My Home Goals 2.0," the company remains committed to its mission of delivering top-notch products and exceptional customer experiences, now in an even more rewarding and exciting way.
Join Wilcon Depot in celebrating its anniversary and achieve your #HomeGoals with Wilcon My Home Goals 2.0 Anniversary raffle promo! For more information, feel free to visit www.wilcon.com.ph/MyHomeGoals
Before you embark on any home improvement project, it's essential to have a clear vision of what you want to achieve. Whether it's a cozy living room, a modern kitchen, or a tranquil bedroom, your vision will be your guiding light throughout the process.
Here are some tips from Wilcon Depot, your trusted building partner in home renovation, to help you with excellent home improvement ideas that will breathe new life into your home.
1. Guide to Outdoor Dining Experience with Wilcon Depot
Make your outdoor area enjoyable and comfortable for dining. Suncrust high-quality cooking tools are available at Wilcon Depot for outside grilled feasts. These excellent items will undoubtedly improve your family's BBQ celebration.
Material Reference: https://docs.google.com/document/d/1D-jjjAuHW0JwQItqITwqsBembw6s3MHS0qd0b4H6nB0/edit?usp=sharing
2. Creating your Ideal Kitchen Space
Wilcon Depot offers Hamden kitchen appliances that are designed for every kitchen enthusiast. These are excellent and efficient that will definitely enhance your cooking experience and help you create delicious meals.
Material Reference: https://docs.google.com/document/d/1HW1vlJfyiA9wqrxnVT5mA85Sj2ueYZ9mosXUzkubytQ/edit
3. Smart Bathroom Solutions
Wilcon Depot offers bathroom solutions with Pozzi. Known for its high-quality and durable products, with water-saving features such as low-flow showerheads and dual-flush toilets. These products not only provide functionality and convenience but also contribute to a more sustainable and eco-friendly living environment.
Material Reference: https://docs.google.com/document/d/1qtj8gTVE10mjqpSeXLl65fm6OogrPEgM7JE6TS-YNZ0/edit
4. Transform your Living room and Bedroom with Wilcon Depot Product Selections
If you want a glamorous home to unwind and relax, Wilcon Depot offers a wide range of product selections. From Heim home essentials to Alphalux lighting solutions, you can find everything you need to build a stylish and functional living space.
Material Reference: https://docs.google.com/document/d/1oJnPXJTa-cjYrSoI2Ri6qFZYeRNdFrAgqes8qRmVy5U/edit