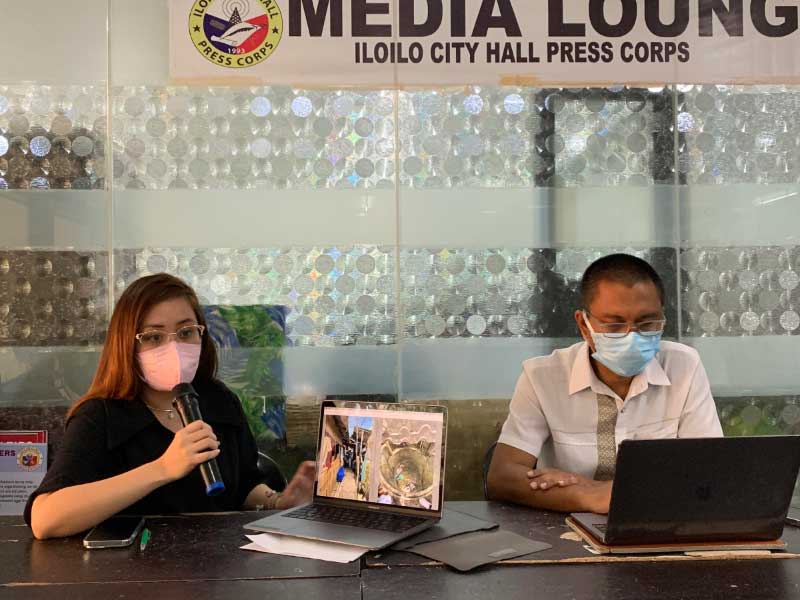 By Rjay Zuriaga Castor
The number of acute gastroenteritis (AGE) cases in the city totaled 508 with four fatalities as of September 10, the Iloilo City Health Office (ICHO) reported on Monday.
The city breached the 500 mark, following the 112 AGE cases recorded from August 22 to September 6 at the Iloilo Doctors' College (IDC).
Dr. Roland Jay Fortuna, City Health Office (CHO) assistant department head, in a press conference on Monday, noted that of the 112 reported AGE cases, 52 are students from the IDC's College of Medicine.
Among these cases are two resident physicians and some are from the other departments of the college.
Fortuna said that based on the investigation of the head of the IDC's College of Medicine, most cases were identified to be linked to the consumption of food from ambulant vendors outside school campuses and recently opened coffee shops, eateries, and kiosks.
Acute gastroenteritis is a disease caused when food or water is contaminated with pathogenic microorganisms such as Clostridium perfringens, Vibrio cholera, or E. coli. The symptoms include nausea, vomiting, diarrhea, and abdominal pain.
The CHO and sanitary inspectors from the City Epidemiology and Surveillance Unit (CESU) conducted monitoring operations on food vendors and establishments along the area of the hospital, particularly the Infante, Delgado, and Timawa streets.
"May mga nakitaan kami nga vendors and eateries wherein ang health cards are expired or and iban wala pa gid kakuha health cards. May mga eatery nga nakit an man nga wala pa sang business permits," Fortuna said.
The city health officer added that there are also food stalls using ingredients without a Bureau of Food and Drugs certification, and has no product registration or even production date information.
He noted that they did not conduct laboratory sampling on the food sold by the vendors but only checked on the health and sanitary permits and profiled the establishments, particularly on their sources of ingredients used in food preparation.
"Actions taken, naghatag kita citation tickets […] Tapos may mga gin identify kami for those nga wala sang mga business permits,' he added.
Fortuna said the office of the city government's Task Force on Morals and Values Formation and the sanitary inspectors have recommended to the Business Permits and Licensing Division the closure of the establishments.
"May follow up operation pa kami kay lantawon namun kung ga comply ang those nga gin panghambalan namun to stop sang services," he added.
Fortuna stressed that they will continue monitoring ambulant vendors and other food establishments in other districts in the coming weeks to control the surge in AGE cases.
"Nakita namun nga indi lang dira ang dapat tutukan […] Makita namun diri sa city proper pa lang medyo damo gid ang ambulant vendors. Ginalikawan natun nga magdamo pa ang AGE cases," he explained.
Fortuna said the city health office has also given a directive to conduct inspections beyond office hours since ambulant vendors operate from around 5 p.m. onwards.
Based on Regulation Ordinance No. 2012-402, all ambulant vendors operating within the city are required to have license plates and health cards as part of their operational procedures.
Meanwhile, the CESU reported 21 rotavirus cases recorded in the city.
Rotavirus is one of the leading causes of acute gastroenteritis, in which symptoms of the viral infection include severe, watery diarrhea and vomiting.
"These cases, all of them are covered, initially presenting with AGE, and stool samples were sent to the laboratory and then were confirmed for the virus. Because of the rising cases, we had investigations done and ongoing investigations while the cases are increasing," said Jan Reygine Ansino, CESU medical officer.
Molo has the highest case of rotavirus but Ansino emphasized that the number of cases is dependent on the number of specimens that were collected and tested.
"Ang cases sa rotavirus, kung sin o lang ang mahatag natun nga mga specimens for the rotavirus, amo lang na ang mabalik sa atun […] More of selective siya. If ever ang amo ni nga hospital ga send out sila for rotavirus, mabal an ta gid if ang amo na nga case may ara. Kung ang iban nga hospital wala sila ga send out, indi man kita makahambal nga wala dira cases, unless nagsend out ang hospital," she explained.
The only way to confirm the diagnosis of rotavirus is through a confirmatory lab test, specifically a reverse transcription polymerase chain reaction (RT-PCR) in a stool sample.
Late last year, Iloilo City was placed under a state of calamity because of the surge in AGE and other water-borne diseases.