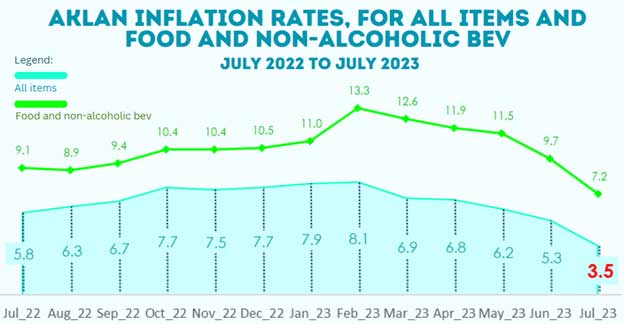 Headline inflation in Aklan slowed down further to 3.5 percent in July 2023 from 5.3 percent in June 2023.
This month recorded the slowest rate since May 2022, or the fifth deceleration from February this year.
This inflation report was based on the year-on-year change in consumer price indices of a group of goods and services across time relative to 2018 prices.
The slower year-on-year inflation of Food and non-alcoholic beverages, among the major commodity groups, led the continued downtrend of the overall province's inflation with 7.2 percent this month, down from 9.7 percent a month ago.
Under this commodity group, Fish and seafoods primarily brought about the decrease in inflation, with 18.2 percent inflation last month down to 8.8 percent during the reference period.
Other vegetables followed which went down to 86.4 percent from 123.8 percent in the past month, while Dates, figs and tropical fruits dropped to -0.4 percent from 11.4 percent in June 2023.
Cane and beet sugar and Meat products also decreased from their previous reported inflation rates from June to July 2023 at 22.1 percent and -2.0 percent, respectively.
Moreover, price indices of Housing, water, electricity, gas and other fuels and Furnishings, household equipment and routine household maintenance also contributed to the downtrend of inflation which went down to 1.0 percent and 4.2 percent, respectively.
Due to the continued decrease in inflation, the purchasing power of peso increased to 85-centavos from 84-centavos in the previous months.
Furthermore, this report revealed that an individual needed P1,180.00 in July 2023 in order to buy the same 1000-peso worth of goods and services bought in 2018.