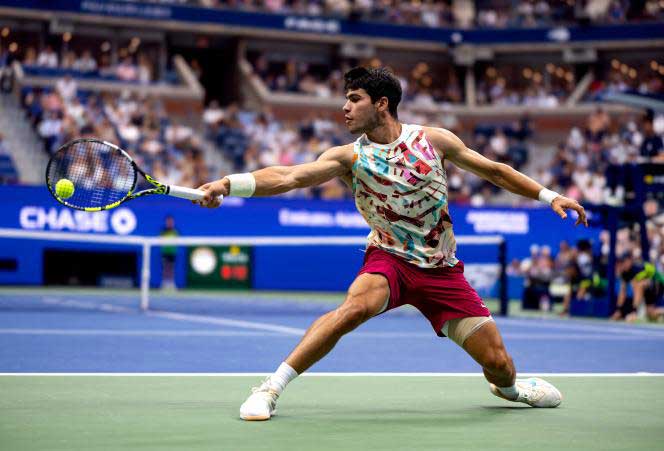 By Leobert Julian A. de la Peña
The chase for a back-to-back Grand Slam championship title stays alive.
Carlos Alcaraz, the world's no.1 male tennis player, already clinched a seat in the quarterfinals of the US Open after handing Italy's Matteo Arnaldi a demolition exhibition in straight sets- 6.3, 6.3, 6.4- last September 5, 2023, held at the Arthur Ashe Stadium in New York.
Coming off an action-packed four-set victory over Dan Evans during the third round, Alcaraz showed high-level endurance against Arnaldi, pulling off one of his dominant performances in the Grand Slam hard court this year.
Alcaraz bagged the momentum-clinching break-point to take a 4-2 advantage midway through the first set which became the start of his stellar outing in front of his loyal Spanish fans who came to see him perform in the US.
After scoring the first break point of the match, Alcaraz just cruised through the game and beat Arnaldi with his varied offensive attack that caught him off-guard.
From his deep baseline forehand bombs to his signature net game, Alcaraz was all over the court and kept Arnaldi guessing for the rest of the match.
The Italian star had his biggest moment early in the second set when he scored an early break to take a slim advantage heading into the next five game point duration.
However, Alcaraz shut the door on him two service possessions after and countered with his own break point to seal the second frame for a comfortable 2-0 lead.
It was all Alcaraz in the fourth set as his power and speed proved to be too much for Arnaldi backstopped with his consistent service game until the end.
The young Spanish ace then scored the game-winning point built from a strong forehand in the middle of the net box that caused Arnaldi to fumble his return.
Alcaraz capped off his impressive victory with 92 points won in just an hour-and-a-half while scoring five break points to move on to the quarterfinal round of the US Open.