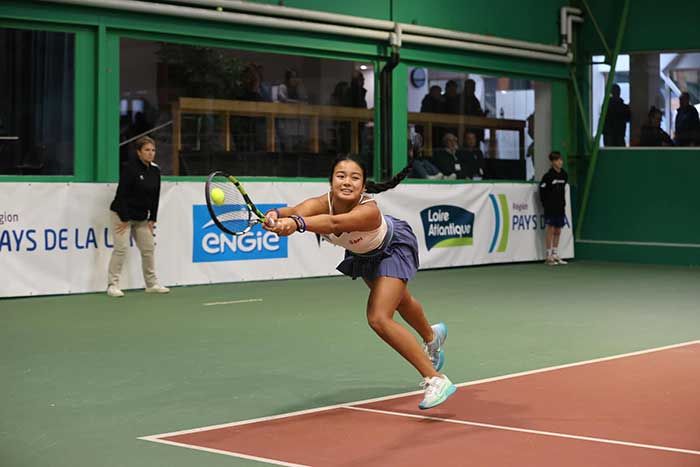 By Leobert Julian A. de la Peña
Alex Eala booked another International Tennis Federation (ITF) tournament circuit semifinal ticket in the ongoing W60 Engie Open Nantes Atlantique last November 3, 2023, held in France.
Eala won the match against the higher-seeded home bet Leolia Jeanjean via a walkover- 6.4, 2.0- as the French ace couldn't finish the match and retired early in the second set.
It was another scintillating comeback victory for the young Filipina star after trailing 1-3 in the first four sets of the opening frame.
Jeanjean looked pretty comfortable midway through the first set after scoring a service hold to increase her lead to 1-4.
Just when the French star looked to pummel her way to an early 1-0 lead, Eala flipped the switch and showed signs of maturity after clawing her way back into the match.
Eala kicked off her huge come-from-behind rally when her signature down-the-line forehand bombs began to connect when the fifth game set began.
After cutting her deficit to just two, 2-4, Eala tightened her defense against the powerful groundstrokes of Jeanjean which started to become a factor aside from her lighting quick offense from the baseline.
Jeanjean was then put into a pressure-packed situation when Eala equalized the first set at 4-all and just sucked the life out of the home bet.
Despite a quick response from Jeanjean, Eala stuck to her game plan and played efficiently on both ends to frustrate the home favorite.
Eala then ended the first set with a series of booming backhands capped off by a top-spin volley cross-court strike to enter the second set with momentum.
However, after Eala scored an early break point and rose to a 2-0 lead, Jeanjean retired from the match and confirmed to the umpire that she couldn't continue anymore.