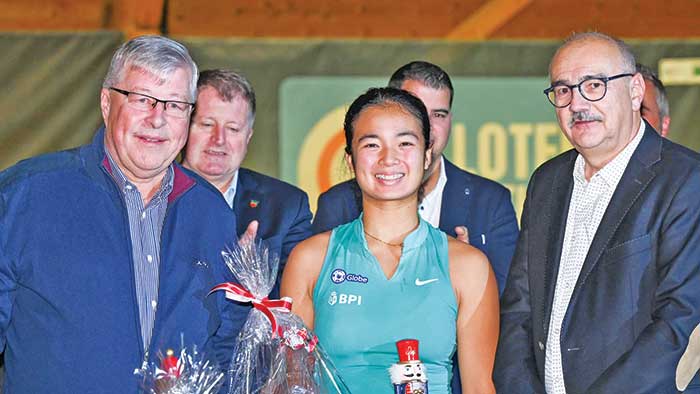 By Leobert Julian A. de la Peña
Alex Eala gave her all and nearly completed a come-from-behind victory but fell short in the end against France's Oceane Dodin- 6.2, 7.5- during the grand final match of the International Tennis Federation (ITF) W40 Kyotec Open held in Luxembourg last November 19, 2023.
Trailing 0-3 in the first half of the second set, Dodin was at an all-time high as she approached the fourth game with only three match points needed to raise the championship trophy.
However, Eala fought back and wowed the crowd as she picked up her hitting rhythm late in the second set.
Eala's stunning rally shocked Dodin as she completed a 5-0 run which helped her retake a 5-3 lead midway through the second period.
After an error-plagued first set, Eala stepped up in the following frame and doubled her effort in chasing Dodin's drop shots that were falling at will in the first 26 minutes of action.
Aside from her improved court defense, Eala also racked up the points after her confidence in throwing the down-the-line forehand went back.
Just when the Filipina tennis sensation thought she could sustain her intensity, the veteran French ace displayed a different level of court mastery as she countered back with a scintillating run.
After a drought when Eala snowballed her way to a 5-3 lead, Dodin answered the call and accepted the challenge when she took the next four games.
Dodin went crazy with her weird slice angles and decided to commit inside the net that neutralized Eala's baseline power.
Despite the collapse, Eala still ended another ITF tilt with a finalist finish and is looking to end 2023 with a bang if she decides to compete in December.