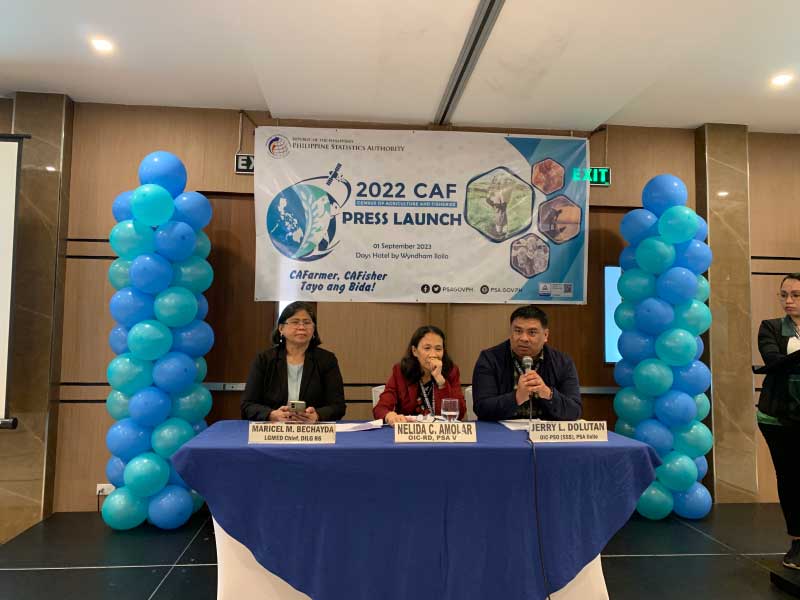 By Rjay Zuriaga Castor
The Philippine Statistics Authority-Western Visayas (PSA-6) will be surveying all households in the province of Iloilo for the 2022 Agriculture and Fisheries Census which is set to start on September 4 and is targeted to end on October 25.
Executive Order No. 352 provides for the conduct of a census of agriculture and fisheries every 10 years with the objective of collecting and compiling information on the agriculture and fishery sectors which will be used for policymaking and other purposes.
The province of Iloilo, alongside Pangasinan and Bukidnon, will be the province that will have a 100 percent sampling rate, which means that all households in all these provinces will be selected as samples or included in the census.
"The domain actually sa pag select sang mga samples natun are provinces and highly urbanized cities. For Iloilo City, sampling lang yah. For the province, tanan nga banwa, tanan nga households […] 100% coverage kita," said Jerry Dolutan, supervising statistical specialist and officer-in-charge of the Iloilo Provincial Statistical Office.
Department of Agriculture data showed that the agricultural and fisheries production in the region from 2020 to 2021 inched up by 10.28 percent. Specifically, agriculture, hunting, forestry, and fishing registered a growth rate of 6.0 percent in the 2021 report.
PSA-6 officer-in-charge director Nelida Amolar said they also used the production data from the 2012 census to identify which areas are in a low, medium, or high volume of production and will have either a 50 percent or 5 percent sampling rate for the census.
PSA's estimates of households in each province or city are as follows:
Aklan – 62, 964
Antique – 75, 282
Capiz – 100, 888
Guimaras – 25, 605
Iloilo (including Iloilo City) – 532, 771
Negros Occidental – 356, 332
PSA-6 said they will deploy around 2, 200 personnel: 108 census area supervisors for each barangay, 112 assistant census area supervisors, 315 team supervisors, and 1, 668 enumerators. The enumerators will be at the frontline for the data collection.
Data to be collected include data on structures and characteristics of farms such as size; tenure of holdings; land use and area planted to crops; inventory of livestock and poultry; and distribution and number of households engaged in farming, fishing, and related activities.
National Statistician and PSA Director-General Undersecretary Dennis Mapa said the census is "more than a mere counting and profiling exercise" of the agricultural farm and fisheries operations but an exploration into the heart of our rural and urban communities.
"The data that we will gather through the Census of Agriculture and Fisheries 2022 will be used by our policymakers, researchers, and stakeholders to make decisions that can lead to equitable distribution of resources and policies that prioritize the improvement of agricultural and fishery production processes," Mapa further noted.
The target respondents of the census are households and barangays. The household level will include operators of crops, livestock, poultry, insects or worms culturing, aquaculture, and/or fishing activity during the period of January 1 to December 31, 2022.
According to Jerry Dolutan, supervising statistical specialist and officer-in-charge of the Iloilo Provincial Statistical Office, all household heads or a qualified member of the household will be required to fill out the CAF Form 1 (Listing Booklet) and CAF Form 2 (Household Questionnaire).
Only households with operators will be asked to fill out the CAF Form 3 (Questionnaire on Agriculture), CAF Form 4 (Questionnaire on Agriculture), or CAF Form 5 (Questionnaire on Agriculture), depending on the facilities and services they operate.
"Kung ang respondent natun indi siya makasabat kag provide sang information pertaining to the operation sang farm, then pwede siya maka-set sang appointment sa aton nga enumerator saila nga available time kag preferred time nila," he added.
Dolutan noted that they have instructed the enumerators to schedule with the operators' availability or have call-back measures to ensure that all information needed for the census is complete.
"What is important is ma complete natun, nga ma cover natun tanan, nga masigurado natun nga makuha natun ang tanan nga information," he emphasized.
Amolar said they tapped and trained residents of the locality as enumerators since they are familiar with the enumeration area. She added that PSA has also pre-coordinated with the local government unit barangay officials before the census enumeration.
Meanwhile, at the barangay level, the target respondents are Punong Barangay or any incumbent barangay official. They are to fill out the CAF Form 6 or the Barangay Questionnaire.
Census Methodology
PSA will be using four modes for the data collection: Computer-Assisted Personal Interview (CAPI), Paper-and-Pen Personal Interview (PAPI), Telephone Interview (using a mobile phone, landline telephone, or tablet), and Self-Administered Questionnaire (SAQ).
CAPI in particular will be a face-to-face data collection method in which the enumerator reads the questions as they appear in the e-questionnaire using a tablet to record answers given during the interview.
Similar to CAPI, PAPI will only be used in areas where CAPI is not feasible due to peace and order problems, risky terrains, security, and safety issues, among others.
In a telephone interview, the enumerator will initiate a voice call through devices such as mobile phones, landline telephones, or tablets, to engage with the respondent.
If the respondent is not available for personal interview within the enumeration period or does not have their own mobile numbers or have a stable network at home, an SAQ will be distributed to the qualified member of the household who can more conveniently accomplish the census forms.
PSA has entered a joint collaboration with the Department of Science and Technology and revealed that they will also use remote sensing, Artificial Intelligence, and earth observation data for the gathering of data.
The data processing phase is scheduled from November 6 to November 30, 2023. Following that, the evaluation and in-depth analysis phase will start from December 4, 2023, until March 15, 2024.
PSA also plans to release the preliminary results of the census on March 29, 2024, with the tentative final results expected to be made available to the public starting July 2024.