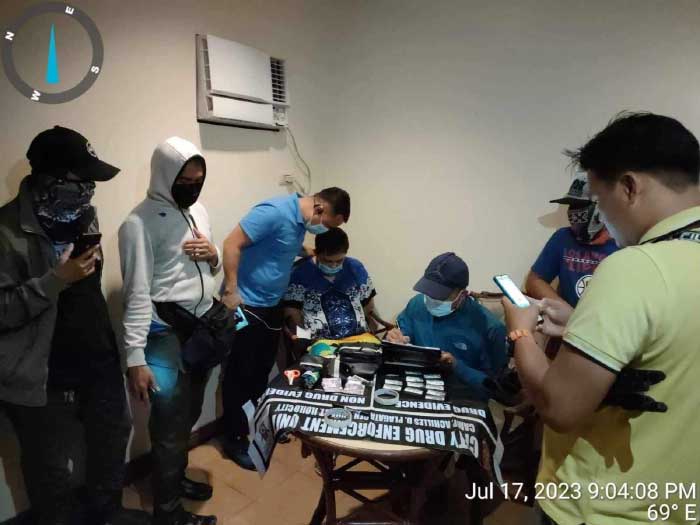 By Jennifer P. Rendon 
Members of the Iloilo City Police Office-City Drug Enforcement Unit (ICPO-CDEU), together with the Iloilo City Police Station 2, scored anew in the anti-drug drive following the arrest of a suspected drug peddler evening of July 17, 2023.
Mark Pajate, 32, of Barangay Rizal, Lapuz, Iloilo City, was collared inside the The Q Drive-In Hotel in Barangay Burgos, La Paz, Iloilo City.
Pajate was arrested for allegedly selling a sachet of suspected shabu for P10,000.
Police operatives later recovered from Pajate 11 more sachets of suspected shabu, P350 cash, a Honda Click 125 motorcycle, and several non-drug items.
Captain Roque Gimeno III, ICPO-CDEU team leader, said the seized drugs were valued at P360,400.
The operation was conducted following a three-week police surveillance.
Pajate was arrested for a drug-related offense in 2016 but was released through a plea bargaining agreement in 2020.
Reports said Pajate got his supply from a certain Nognog and Roel of Barangay Desamparados, Jaro, Iloilo City.
He is now detained and will be charged for violation of Republic Act 9165 (Comprehensive Dangerous Drugs Act of 2002).
It looks like motels have been a go-to place for suspected drug peddlers recently.
On July 6, another ex-convict and his lady companion were collared in a motorist hotel in Arevalo, Iloilo City.
Wynnlee Jaena, 49, of Barangay Democracia, Jaro, Iloilo City and Era May Calopez, 23, of Barangay North Baluarte, Molo were arrested after the former sold a sachet of suspected for P8,000.
Seized during the operation were 17 more sachets of suspected shabu, a belt bag, a homemade caliber .22 revolver with five ammunitions, an Android phone, two lighters, a weighing scale, a bundle of empty plastic sachets, cash of P3,900 and a rolled aluminum foil.
The confiscated drugs were valued at P816,000.
Prior to Jaena and Calopez, there were several other pushers who were collared in a motel or hotel.
John Alvin Palomar, 44, of Zone 2, Barangay Bakhaw, Mandurriao, Iloilo City, was arrested at 9:05 p.m. on June 15 while billeted at Sofia Lodge in Barangay Infante, Molo.
He yielded more than P1.2 million worth of shabu.
On May 31, six persons, including two women, were arrested following a drug sting at a hotel in City Proper district, Iloilo City after midnight of May 31.
More than P1.4 million worth of suspected shabu were seized from their possession.