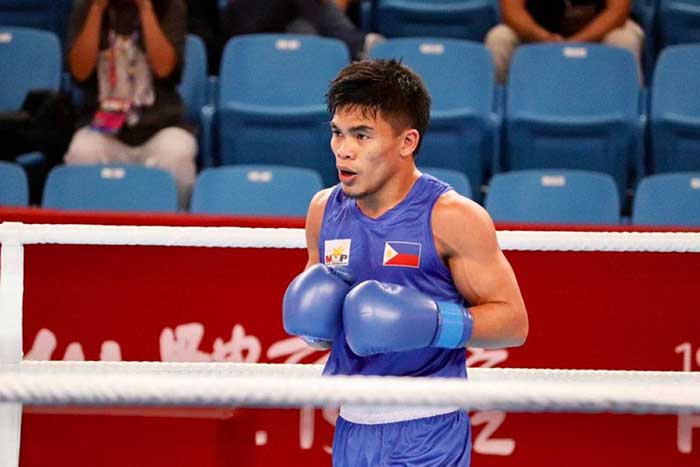 By Leobert Julian A. de la Peña
Carlo Paalam just said goodbye in the Asian Games.
Facing a taller and longer Abdumalik Khalokov of Uzbekistan during the quarterfinals of the men's 57-kg boxing tournament, the Filipino pug just couldn't capture the momentum and fell via a 5-0 unanimous decision last October 3, 2023, held in Hangzhou, China.
Khalokov's wide-reach advantage enabled him to punish Paalam with his stiff jabs and was wise to maintain his desired distance in all three rounds.
Aside from his wide offensive arsenal, the Uzbekistani also possessed quick footwork that allowed him to disengage in a jiffy when Paalam pushed forward to cut the distance and go inside.
Khalokov opened the first round with a barrage of left jabs which kept Paalam backpedaling for the first minute but later on retaliated by going inside while throwing wild haymakers.
Despite a little connection scored, Paalam closed the round aggressively but the tons of jabs Khalokov scored earned him enough to get the nod of all the judges.
It was the same scenario in the following round as Khalokov still banked on his reach advantage to touch Paalam everytime he stepped forward.
No matter what Paalam tried to cut the distance, the Uzbekistani tactician played a more technical approach and stepped outside every time he hit the Filipino with consecutive hooks.
Paalam desperately tried to salvage the third round but Khalokov sensed that he was up in all the scorecards and just avoided further damage in the closing seconds.
Despite failing his podium finish bid, Paalam still had a great campaign against all his bigger opponents in the 57kg division.
Originally a 54kg fighter, Paalam had no choice but to move up weight because the Asian Games only catered the featherweight division.