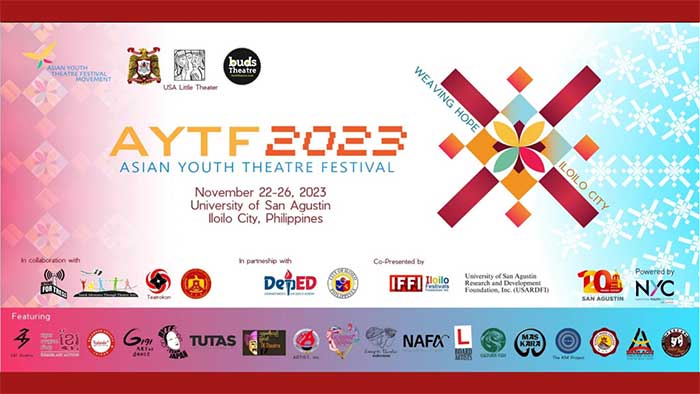 Today marks the grand opening of the highly anticipated Asian Youth Festival 2023, an awe-inspiring celebration of culture and creativity set to grace the halls of the University of San Agustin (USA) Auditorium that runs until November 26, 2023.
The festival themed 'Weaving Hope' and hosted by the USA Little Theater, welcomes delegates from 13 diverse countries: Bangladesh, Brunei, Cambodia, India, Indonesia, Japan, the Philippines, Malaysia, Myanmar, Sri Lanka, Singapore, Thailand, and Vietnam.
Founder and Artistic Director Claire Devine revealed an extensive program, including over twenty live performances, workshops, and plenary sessions delving into theater, arts, and culture.
Over 20 captivating live performances, workshops, and engaging plenary sessions await attendees, offering an immersive experience into various facets of theater and arts. Free workshops, open to all, provide an inclusive platform to explore the rich tapestry of Asian cultures.
The festivity commences on today with featured performances by various Philippine theater groups from Iloilo City, Cebu City, Bacolod City, and Tagaytay, setting the stage for a week brimming with artistic expression; also joining from the Philippines are theater groups from Dumaguete City, Ozamis City, Tagbilaran City, and the Luzon region which will showcase their unique theater forms during the rest of the festival week.
Day 1 (November 23) opens with a welcome program by the scenic Iloilo River at Esplanade, offering delegates a glimpse of local charm. The day progresses with a rich tapestry of performances from Asian countries and culminates in an afternoon opening ceremony at the USA Auditorium.
Amidst the performances, immersive workshops by diverse Asian theater groups will enrich the festival experience, fostering an exchange of artistic expertise until the closing day on November 26. The closing ceremony promises an awe-inspiring collaborative performance from the delegates in a triumphant celebration of shared creativity and cultural unity.
Nikki Cimafranca, AYTF International Relations Director, emphasized, "Beyond scheduled performances, our open stage beckons aspiring artists to share their talents, fostering connections and collaborations among passionate art practitioners in the region."
The festival, making its triumphant return to live performances after being conducted online in 2021 due to the pandemic, stands as a beacon of hope and rejuvenation.