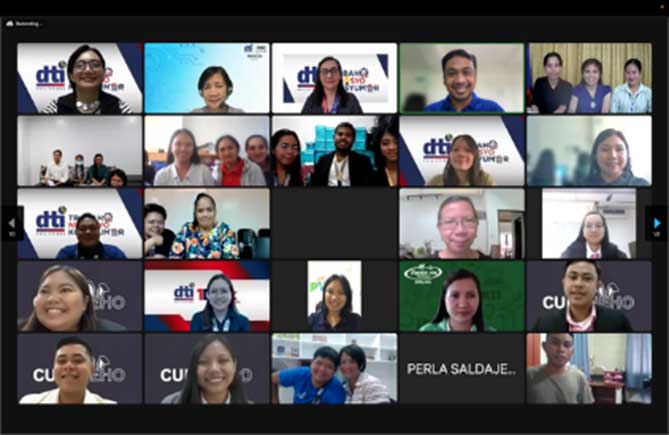 The spirit of innovation and entrepreneurship is thriving among the youth of Western Visayas as the Department of Trade and Industry (DTI) Region VI's "You Can Be Your Own Boss!" program gains momentum with 109 ambitious young minds.
This comprehensive youth entrepreneurship program is designed to equip the region's future business leaders with the skills, knowledge, and confidence needed to thrive in the competitive world of commerce.
The program, which was held only in Region 6, has garnered overwhelming interest from youth across the region, provides participants with intensive training, mentoring, and practical insights into the intricacies of entrepreneurship.
Through workshops, seminars, and interactive sessions, these young individuals are gaining a deep understanding of business fundamentals, marketing strategies, financial planning, and more.
Following the comprehensive training carried out by DTI Region 6 from August 15 to 18, 2023, the competition gets fiercer.
Out of the 109 participants, comprising 35 teams, 16 standout teams have been chosen to advance to the next round.
In this round, the eagerly awaited online business pitching competition, took place on August 30 at the DTI Regional Office VI. These young entrepreneurs showcased their innovative and pioneering business ideas to a panel of judges, industry experts, and fellow participants.
The pinnacle of excitement lies in the fact that the top 10 teams from this pitching competition will not only earn recognition for their creativity and business acumen but also secure a starter fund. This financial support aims to provide the initial push needed to transform dreams into viable ventures.
DTI Region 6 OIC-RD Ermelinda Pollentes, commented, "Our youth possess boundless potential, and this program serves as a platform to channel their creativity and ambition into practical business endeavors. We are committed to supporting these young minds as they embark on their innovative entrepreneurial journeys."
The business pitching competition may have drawn to a close, but its impact lingers on. The spotlight on these talented individuals has illuminated the path toward a more entrepreneurial tomorrow – a proof of their passion, resilience, and commitment to making a difference.
As the eagerly awaited virtual graduation approaches, set to take place on September 1, 2023, DTI Region 6 envisions a future where these 109 graduates will become trailblazers in their respective fields. Their accomplishments will serve as an inspiration for others, highlighting the potential that emerges when young minds are empowered with knowledge, skills, resilience and a forward-looking vision.