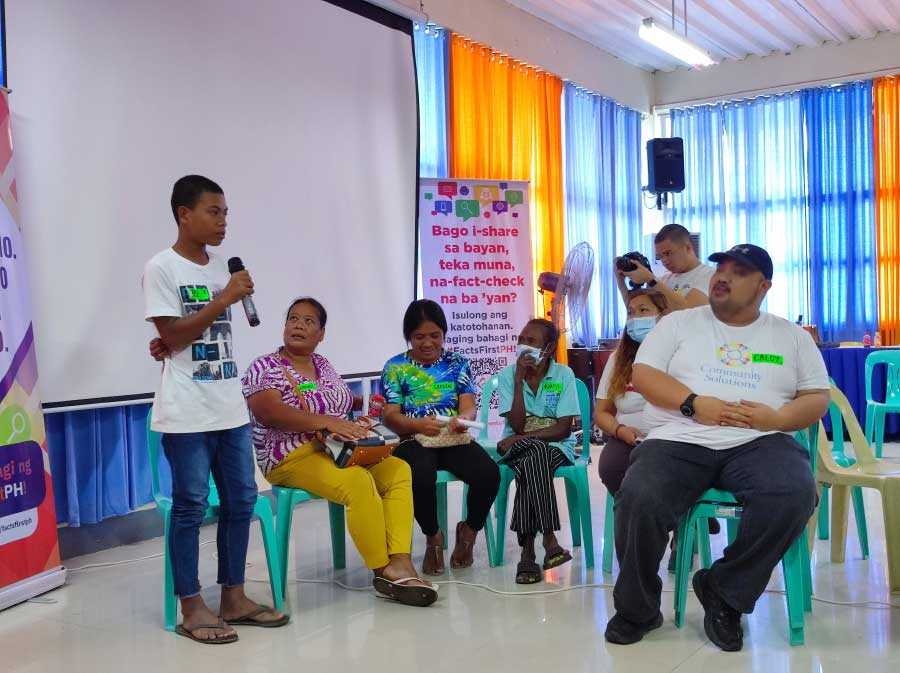 By Francis Allan L. Angelo
Indigenous people (IP) like the Atis of Panay and Guimaras recognize the importance of information technology (IT), especially social media as a platform for news and entertainment.
While elderly Atis confess to not being so interested much less adept in handling modern gadgets, they consider Facebook and other social media platforms as essential to keeping tabs of daily happenings.
But they are also concerned on the ill-effects of the young spending too much time in social media and the content they see.
We arrived at these realizations during the #VoicesFromTheRegion project of MovePH, the civic engagement arm of Rappler along, and its partner institutions such as UP Visayas, Department of Social Welfare and Development, Iloilo youth group Tib-ong Kabataan, Municipality of Buenavista in Guimaras, and Daily Guardian.
The project, which happened in Miagao, Iloilo and Buenavista, Guimaras on June 1 and 2, conducted community dialogues with select communities in Western Visayas and facilitated a workshop to equip them with the necessary knowledge and skills on responsible digital citizenship.
The Buenavista leg happened at the multipurpose hall of the town hall.
In one of the small group discussions, Ati elders Rebecca, Marcelina, and Rodolfo averred that their main sources of information and entertainment are still radio and TV.
"Sa radyo eh kay nagapamati man kami dira sa nagabalita. Amu lang na, pay siling nga gagamit kami sang cellphone, kami nga mga tigulang ya, hindi kami kahibalo. Sa TV gatan-aw man kami balita. Radyo kag TV lang, amu man na gani daw kulang kami sa kaalam nga kung makita namon, ay teh amu gali na," Rebecca said.
(We listen to the radio because that's where the news are. When it comes to cellphones, we're too old for that, we don't know how to use them. We also watch TV for the news. Only radio and TV. We are not that knowledgeable of other things and we are amazed when we see such things.)
The most common news they tune in to are on the weather, crimes like illegal drugs, and accidents.
They also watch out for news about their community and the help they could get from government and other sectors.
"Gusto man mabati-an kag ginabantayan mga balita nila parte sa mga pigado. Mga para sa amon abi nga mga ati nga kung kis-a masambit man sa Bombo nga ining mga ati buligan," Marcelina said.
(We want to hear and watch out for news about the poor like us. We listen to programs and projects that could help us Atis and once in a while we hear from Bombo Radyo that we Atis need help.)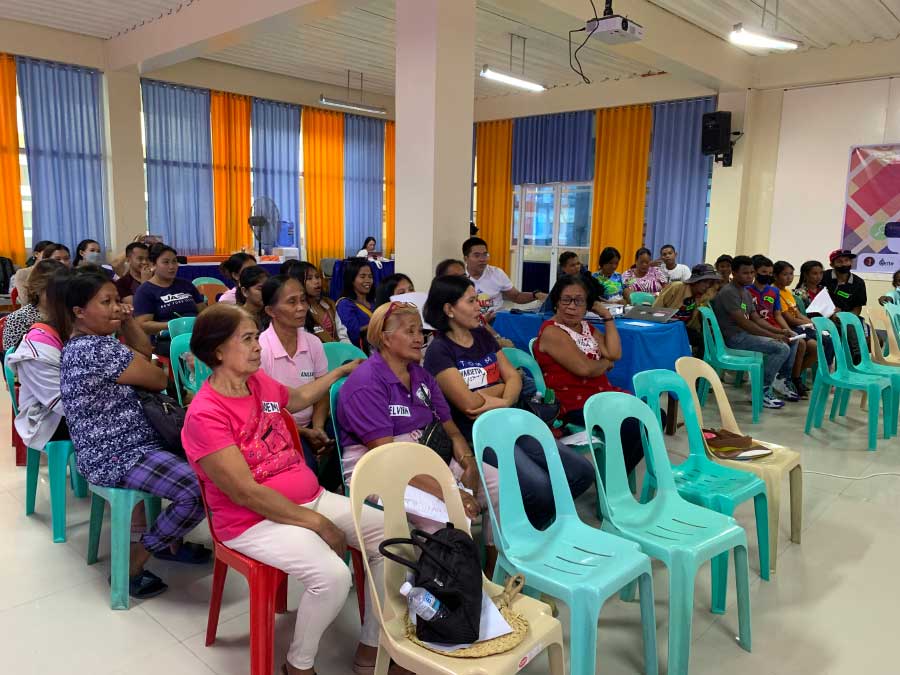 TRUST, VERIFICATION
While they are not that adept on social media and the information it contains, the Atis of Guimaras do not immediately fall for everything that is relayed to them.
If they encounter a piece of information from their neighbors, they try to verify it from their primary source which is radio.
"Ang sa hambal-hambal lang, kung kaisa talaksan namon na hindi kami magdali-dali mapati kay basi sala man. Kung wala man kami kabati sa radyo, ti wala man kami gapati. Kadtu-an gid na namon kung matuod or hindi kay ang iban na ya daw chismis lang bala aw. Basi kutso-kutso mlang na, palaton-laton istorya, hindi gid magpati dayon," Rebecca said.
(We don't easily believe in talks because these might be false. If we don't hear them from the radio, we don't quickly believe. If we can, we go directly to the place of the incident to verify because sometimes other people just spread false stories. They might be rumors so we don't fall for them immediately.)
The Atis still hold journalists in high regard, especially in commentaries on issues that matter to them.
Marcelina said they trust journalists to provide accurate and relevant news compared to other sources.
"Kung nagapamati kami makasiling kami nga ay amu gali na. Mapati gid lang kami kay ti manugbalita siya mung. Tanan-tanan nga tao nagabalita siya, syempre makabati tanan. Ginpalayag gani na nila sa kahanginan kay matuod. Nagasalig nga ang gagwa sa radyo kag TV matuod kag masaligan kay ti gin commentaryo gani nila na kay matuod. Ginapaagwa man na sa TV," she added.
(If we listen to them, we tend to believe them because that is their work. They relay information to everyone. They do so because it's the truth. We trust news and commentaries in the radio and TV because they tell the truth.)
But Rodolfo also recognizes that some journalists also commit mistakes and they also appreciate those who apologize and correct their ways.
"Kung kaisa may sala man galing. Syempre mangayo man na sila pasensya kung may deperensya sila. Pero waay man na ganubo amon pagtulok sa ila. Sadyahan man gani kami kung magtinarso kaisa sa radyo kay bal-an ta man na nga gina-igo-igo man nila ila gina komentaran. Okay lang man  na mangbasol sila da kay ila trabaho na," he said.
(They also commit mistakes sometimes. Of course, they will apologize for that but we do not lose our trust in them. We take pleasure when they use humor in their commentaries. It's okay for them to criticize because that is there work.)
DOWNSIDE
But if there is a downside to social media, it's the too much attention and time that the young spend on Facebook and TikTok, among others.
Marcelina said kids do not pay attention to their elders, especially when they are made to do some chores, because they are hooked to social media and games.
Waay gid epekto sa amon personal pero sa mga kabataan may ara kay nagahampang sila TikTok. Gaakig kami kay kung may ginasugo kami, daw waay lang sila kabati, sige lang ila hampang. Ginasaway man namon. Siling namon sang una maayo pa kami mga kabataan sang una nga wala cellphone. Subong damo na sila nahampangan mga tiruhay.
(Personally, it does not affect us but kids spend too much time in TikTok. We get angry because they don't hear us if we ask them to do something. They just keep on playing. It was better during our younger days because we don't have cellphone. Nowadays, a lot of them are immersed in violent games.)
Scams spread via social media and text messaging are also causes of concern for the IPs citing cases of neighbors who were also victimized into giving money to persons whom they thought were their friends or relatives. It turned out that the account was actually hacked and used by unscrupulous persons.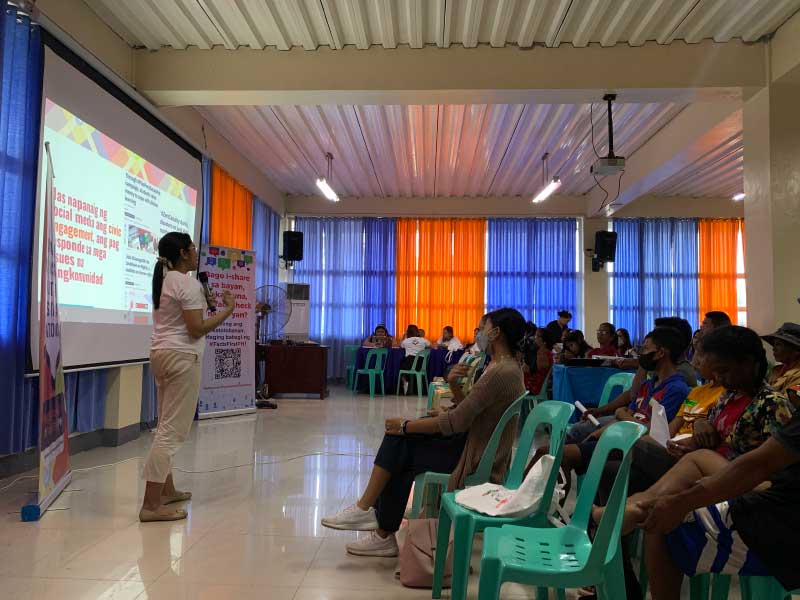 The day was capped by a workshop on digital hygiene and security conducted by Jene-Anne Pangue, a civic engagement specialist of MovePH and Rappler.
Pangue discussed ways to detect disinformation and what to do if the public finds dubious pieces of information or news.
She also stressed the importance of being a responsible digital citizen by helping fight disinformation and regulating the use of social media, particularly among the young.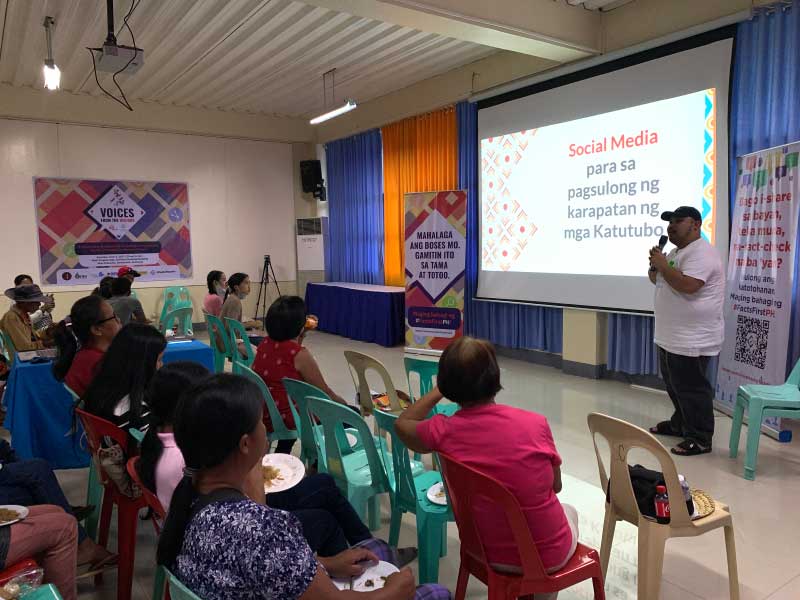 Caloy Dulla of Tib-ong Kabataan made a presentation on advancing the welfare and protection of the IPs who have been mocked as uneducated and uncivilized.
Dulla, who once worked for DSWD as an IP focal person, said he was impressed by the culture and motivation of the IPs in protecting their way of life and to become achievers in the present.
"IPs have been mocked before but now we see a lot of achievers among them. It is important that we advocate for the protection of their way of life and help them become integral parts of our communities," he added.