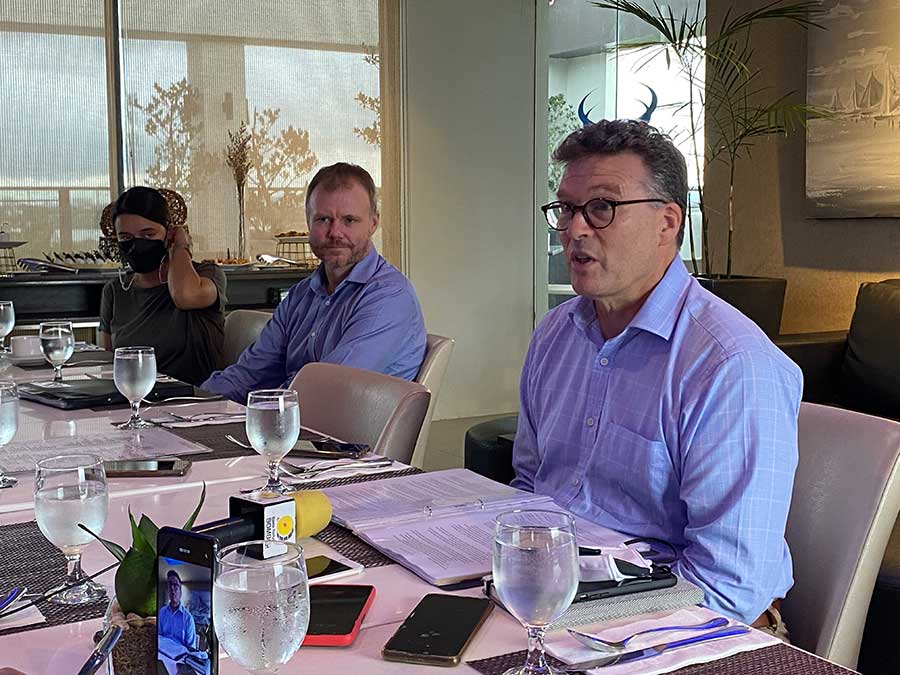 By Joseph B.A. Marzan
The Australian Embassy's deputy ambassador landed on the city and province of Iloilo on Wednesday, with what he said is already a "tradition" among Australian chief diplomats to symbolize good relations with the Philippines.
Australian Deputy Head of Mission to the Philippines Richard Sisson told journalists at a hotel in Mandurriao, Iloilo City that he follows the footsteps of all previous ambassadors to the country.
"I follow in the footsteps of our [outgoing Australian] Ambassador, Steven J. Robinson, who visited in 2019. In fact, the last 3 Australian ambassadors have all visited Iloilo at different times, and this reflects the strength of the relationship between Australia and the Philippines," he said.
"It's very important for us to get out and to look at regional areas and to understand the differences between different provinces, different regions and different municipalities," he added.
He mentioned the significance of his visit to the two countries' relations, citing history indicating direct trade between Panay via Iloilo and Australia, the Philippines then being a Spanish colony and Australia being a British colony.
"Last year, we celebrated 75 years of formal diplomatic relations, but the relationship goes back well over a century. Back in colonial days, in the mid-19th century, there was trade between Iloilo and Australia. That's something pretty remarkable. And today, there are about 300,000 people of Filipino heritage living in Australia," he stated.
Sisson said that there are "four pillars" in Australian-Philippine relations, including people-to-people links, defense and security, development and education, and trade and investment.
The embassy has provided teacher training and quality programs to 6 schools in the city and province of Iloilo and 8 in Guimaras, as well as some agricultural and fishing programs like seaweed harvesting, and sea cucumber production in Tigbauan town.
In the next few days, Australian delegation is set to meet with political and business leaders and organizations, as well as Australian scholars and students living here.
The Australian Foreign Minister, Senator Penny Wong, in a media release on Wednesday announced the appointment of Hae Kyong Yu as the country's ambassador to the Philippines.
The two countries celebrated 75 years of formal diplomatic relations in 2021.