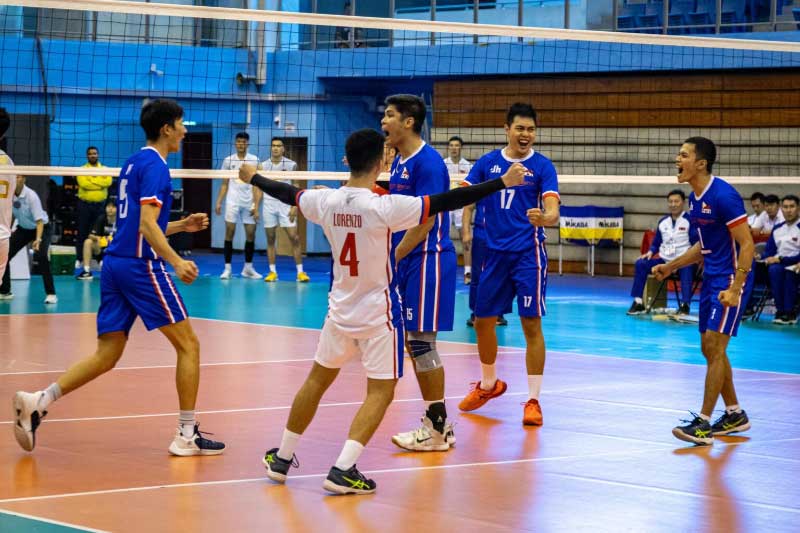 By Leobert Julian A. de la Peña
The Philippine men's national volleyball team is having one of their most stellar starts in any international tournament after going undefeated in the group stage of the AVC Challenge Cup held at the Taipei Gymnasium last July 10, 2023.
Team PHL improved to a perfect 2-0 record after edging the tough Mongolian national team in five grueling sets, 22-25, 25-21, 26-24, 23-25, 15-12.
It was a tough start for the Filipino spikers as Mongolia quickly went ahead in the first set after committing several unforced errors with their 1-2 offensive combination plays.
Despite the continuous error, the PHL still stuck to their agreed game plan and tried their failed sets again in the second frame which paid off dividends as they found their groove in the cross-court spiking department.
The returning Marck Espejo continued his consistent performance for the national team and flipped the switch against the Mongolians.
After splitting the first two sets, Espejo suddenly went beast mode and stepped on the gas pedal with his blazing attacks, punishing Mongolia's middle blockers with his varied spiking angles.
Espejo put up his best performance of the AVC Cup so far and churned in a game-high 36-point production built from 29 successful attacks alongside five service aces and two blocks.
When Mongolia was on the verge of going up 2-1 when they held a slim 24-22 lead during the third set, it was Espejo who delivered the crucial points for team PHL.
Espejo's insane mental toughness then went contagious as most of the opposite spikers suddenly took away their jitters and hit the ball with power and confidence.
The Filipinos displayed their heart once again after trailing 12-10 in the fifth and deciding set. Eager to continue their campaign on a high note, team PHL blitzed their way to a 5-0 run, stunning the Mongolian team in the last seven possessions of the game.
With the big-time victory, the PHL squad will next face the powerhouse Vietnam team today and is seeking to clinch its third-straight win in the AVC Cup.