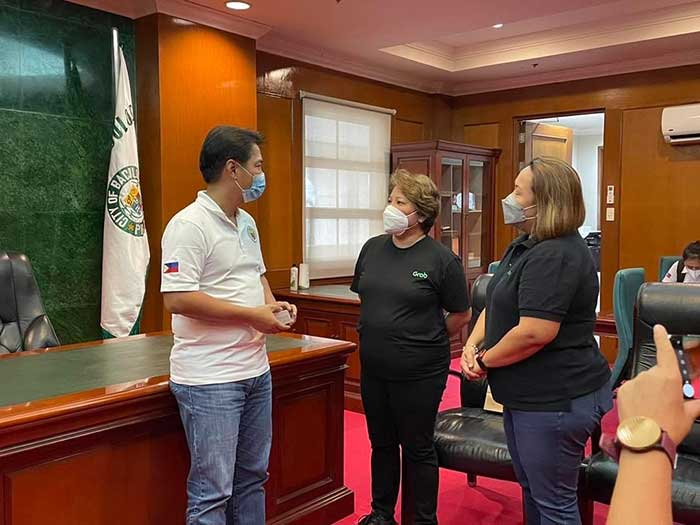 By Glazyl Y. Masculino
BACOLOD City – The city government here recently signed a memorandum of agreement (MOA) with Grab Philippines to use their online application to track the use of government vehicles of the city.
This was revealed by Mayor Alfredo Benitez (MAB) during a press briefing at the MassKara Hall of the Bacolod City Government Center (BCGC) yesterday.
Benitez said that all authorized users can access the platform for free to be able to use the government vehicles.
"We know a lot of people use Grab. Mas hapos sa ila. Indi sila mabudlayan.," he added.
Benitez noted that the application also has analytics that would record where and when the users utilize the vehicles, and who uses the vehicles.
A digital copy of all of the vehicles' movements and transactions will also be recorded, the mayor said.
Through this, it would be easy for the city to liquidate the payment for gasoline and other expenses.
Benitez said that government employees without the Representation and Transportation Allowance (RATA) and all those authorized will be allowed to access the platform.
Benitez said that they already have a technical group that will conduct the dry run.
The city earlier this year launched the MAB-Cab, a digital booking application to determine the travel location of the city government employees. It's a system patterned after the Negros Occidental provincial government's Capitol Cab.
Benitez said that when he did the inventory of all the vehicles assigned in one department, some of the vehicles were used minimally.
"Kung ma usar man nila four days a week on that particular day, how long do they use it? Basi kis-a isa lang ka trip or one hour wala na. In other words, kanugon ka vehicles kung ang usage sa ila minimal lang, that's why gin pool ta sila," he added.
When the city decided to pool the vehicles, Benitez said that some were having difficulty processing the usage of the vehicles. Thus, he believes that the Grab app is the solution.
Benitez said they have proposed a total of 40 units of government vehicles, including 20 new units which will be covered by the partnership.
At present, the city has 30 existing vehicles, including the 20 old units. "As of now, we are procuring more units for the MAB-Cab," Benitez said, adding that 10 more units will be procured.
Jean Ramos, head of the City Planning and Development Office, said that P10 million will be allotted to the said procurement which will be sourced out from different government offices.