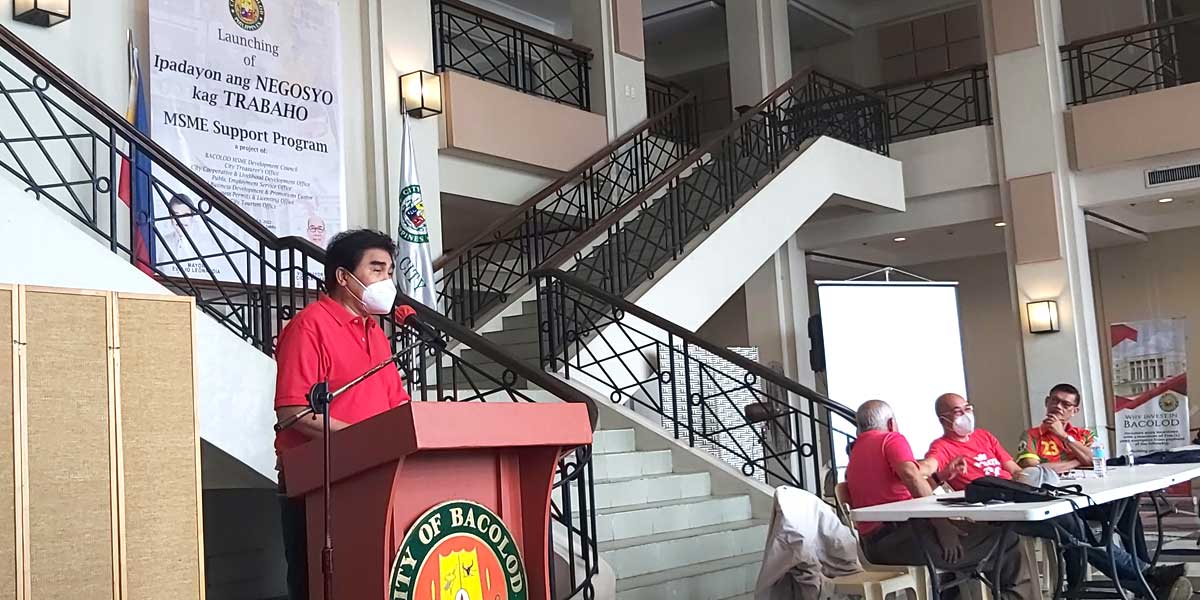 By Dolly Yasa
BACOLOD City – Mayor Evelio Leonardia on Saturday unveiled a comprehensive relief package for businesses affected by the health crisis in the last two years.
The beneficiaries of the relief from payment of business taxes for fiscal years 2020 and 2021 include the thousands of micro, small and medium enterprises operating in the city, Leonardia said during the MSME Support Program launching dubbed, "Ipadayon ang Negosyo kag Trabaho", held at the Bacolod City Government Center.
Travel operators and tourism stakeholders, accredited cooperatives, taxi and jeepney operators as well as sari-sari store, carinderia or restaurant owners, welcomed the good news.
With Leonardia were Vice Mayor El Cid Familiaran and Councilor Renecito Novero, chair of the Sangguniang Panlungsod Committtee on Trade and Industry and author of the ordinance establishing the Bacolod MSME Development Council.
Leonardia said the launch of the support program for businesses came right on time as it is a major component of the city's COVID exit plan, especially now that "we are under the new normal with the de-escalation of our status to Alert Level 1".
He said Bacolod was already experiencing its fastest growth ever in 2019 with 25,627 registered businesses, or about 10,000 more than neighboring Iloilo City, before the global crisis was declared.
He noted that about 95 percent of registered businesses in Bacolod belongs to the MSME category with each employing a high of 10 workers.
"After we made analysis and assessment of the state of businesses at the height of the health crisis, Bacolod was very fortunate that only 8 percent was badly hit on the first year of the pandemic in 2020, and another 4 percent in 202, or a total of 12 percent," he further said.
"Our expectations were higher. We were predicting the worse. We are happy that we managed the pandemic well with the success of our vaccination program."
Businesses with arrears in their mayor's permit and other mandatory fees from their previous applications for renewal during the pandemic period, will be allowed to settle their dues on staggard or installment basis, City Treasurer Arlene Memoria explained.
This applies to enterprises with capitalization of P3 million and below.
No business tax will be collected from them for 2022, provided that they register with the Department of Trade and Industry or the LGU under the Barangay Micro Business Enterprise (BAMBE) Law.
They are also encouraged to re-apply as new registrants for the current year, Memoria said.
Those who already settled their 2022 business tax, on the other hand, do not have to pay them next year, again, as long as they complied with the BAMBE Law registration, she added.