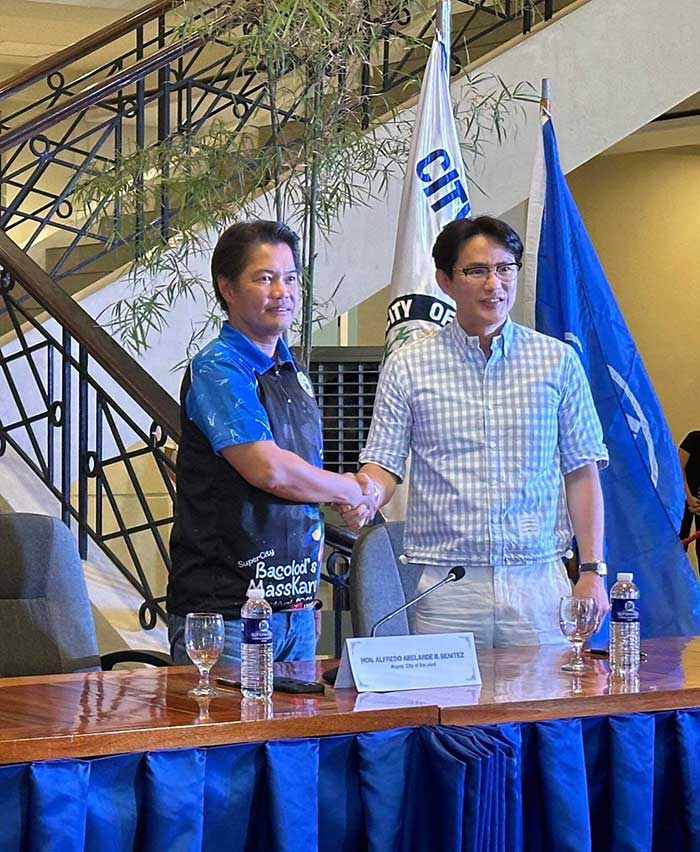 By Glazyl Y. Masculino
BACOLOD City – SM Prime Holdings Inc. has turned over P131.89 million to the local government here for the redevelopment of the iconic Manokan Country, signaling the start of its transformation into a future-ready tourist destination.
This, after Mayor Alfredo "Albee" Benitez and SM Supermalls president Steven Tan led the contract signing of a 40-year lease agreement in rites held at the lobby of the Bacolod City Government Center (BCGC) yesterday.
The amount represents seven years of advance rental payments for Manokan Country, under the 40-year lease agreement with the city, at an annual rental fee of P21.26 million, subject to a 5 percent escalation rate every three years.
Manokan Country, which was established in the 1990s, is a row of restaurants selling grilled foods, especially the famous Bacolod chicken inasal (barbecued chicken). It is situated at the city-owned property at the Reclamation Area right across SM City Bacolod.
For years, Tan said that this establishment has been a hub for local cuisine, attracting tourists from all over the world who seek to indulge in the flavors and experiences Bacolod has to offer.
But, as times change, the needs and expectations of the people also do change. Thus, he stressed that in order to stay relevant, it is crucial to embark on a journey to modernize the Manokan Country.
Tan said that Bacolod has always prided itself on its rich heritage and traditions, and in a world that moves at a rapid pace, it is essential to adapt and embrace change while preserving its cultural identity.
In his speech, Tan said that the modernization of Manokan Country will allow the people to retain their authenticity while catering to the needs of a modern society.
Tan said that modernization does not mean compromising the essence or character of the Manokan Country, but it means providing better facilities, improved infrastructure, and a more comfortable and convenient dining experience.
It means embracing technology to streamline operations, enhance customer service, and provide a smoother transaction process, he added.
Tan noted that by investing in modernization, they can create a more attractive and efficient venue that meets the demands of the 21st century consumer.
SM Prime, one of Asia's leading real estate developers, envisions the establishment as a tech-ready, with more spacious food hall, with a kitchen that will assure customers of the sanitary preparations and quality cooking of the chicken inasal and options for airconditioned spaces for more comfortable dining.
Tan thanked the city officials for supporting this endeavor. "Let us work hand in hand to transform Manokan Country into a modern destination that showcases the best of Bacolod's culinary heritage," he said.
For his part, Jeffrey Lim, president of SM Prime Holdings, in a statement, said that upgrading the infrastructure and facilities within Manokan Country will not only enhance the overall dining experience but also improve safety, hygiene standards, and operational efficiency that customers are prioritizing nowadays.
The modernization of Manokan Country will support the local economy by attracting more visitors and generating increased revenue for the vendors and surrounding businesses," he added.
Upgraded facilities, such as modern seating arrangements, proper ventilation, improved sanitation systems, and expanded parking spaces will contribute to a more enjoyable dining experience.
Modernization efforts also include incorporating technology-driven solutions, such as digital payment methods, online ordering platforms, and efficient waste management systems. These advancements will streamline operations, provide convenience to customers, and promote sustainability practices.
Early this year, SM Prime Holdings presented to Benitez its project proposal to develop the Manokan Country through the public-private-partnership-program (PPPP).
In a media interview, Benitez said that after the contract signing, they will gear up for the construction to operate tentatively by 2025.
Benitez said SM Prime Holdings is committed to investing P4 billion in the implementation of the said project, which will create more jobs in the city.
Also included in the redevelopment project is the Vendors' Plaza towards the Commission on Elections (Comelec) office.
He said that he's satisfied with the design and they are only asking to build a big building in the area and preserve the cultural identity of Manokan Country.
With this development, the local government is set to demolish at least 18 stalls at Corner San Juan Street towards Corner Ferrero Street near the Manokan Country to give way for the said project, but they are not part of the Manokan Country tenants.
These stalls include those selling flowers, purified drinking water, and sari-sari stores.
For the Manokan Country tenants, SM proposed that they will be accommodated at the terminal hub of the mall for free starting January 2024 for 14 months, and will only pay for their utilities.
It can be recalled that in 2017, during the administration of former Mayor Monico Puentevella, SM offered to purchase 1.3-hectare property in Barangay 12 just across SM City Bacolod where the Manokan Country is located for P20,500 per square meter.
However, the plan did not push through because the city government had several legal issues to settle before it could sell the property, and there was opposition to the proposal from the residents of Barangay 12 and Manokan Country stall owners.