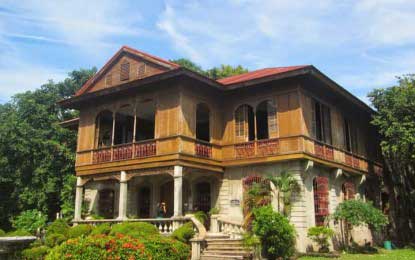 BACOLOD City – The famous Balay Negrense museum in Silay City, Negros Occidental will undergo rehabilitation and renovation after its care and preservation has been formally turned over by the Negros Cultural Foundation Inc. (NCFI) to the provincial government.
"The provincial government will now manage the maintenance and renovation of the house, given the responsibility of preserving the shared heritage," the provincial government said in a statement on Friday.
In rites at the Governor's Office on Thursday, NCFI president Lyn Gamboa presented to Governor Eugenio Jose Lacson and Provincial Administrator Rayfrando Diaz II a roof garden baluster from Balay Negrense.
The act is "a symbolic representation of passing on the care and sustainability of the first lifestyle museum and historical house in Negros Occidental" to the provincial government after it has been preserved and managed by the NCFI since 1990.
"We would like to thank the NCFI for 33 years of taking care of Balay Negrense, which has become popular not only in the Philippines, but also worldwide. We have received international visitors in the place," Lacson said.
Gamboa said the NCFI ensured that the "rich heritage of this place remains intact and accessible to everyone eager to learn our remarkable past".
"Thank you to all who have contributed to this remarkable endeavor and may Balay Negrense museum forever stand and continue to 'Abanse' as a testament to the strength of our cultural identity," she added.
Abanse Negrense (Move Forward Negros) is the slogan of the current administration.
Gamboa also acknowledged the support of Rep. Jose Francisco Benitez (3rd District), who facilitated the transfer of congressional funds for the renovation project.
Balay Negrense, also known as the Victor Fernandez Gaston Ancestral House, is located on the historic Cinco de Noviembre Street.
Built in 1897, it was converted into a museum in 1990 and was named by the National Historical Commission of the Philippines as a heritage house in 1994.
It showcases the lifestyle of sugar barons during the 19th century, the time when Silay City was renowned as the "Paris of Negros". (PNA)