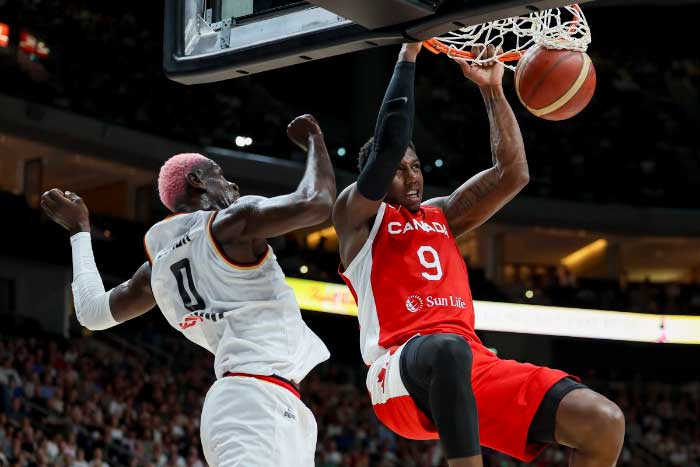 By Leobert Julian A. de la Peña
A selection of NBA superstars duked it out during a highly-anticipated FIBA World Cup exhibition matchup between Canada and Germany last August 13, 2023.
Led by Oklahoma City Thunder superstar Shai Gilgeous-Alexander and New York Knicks' RJ Barrett, team Canada completed a stunning comeback against Dennis Schroder and the German national basketball team in overtime, 113-112, during the 2023 DBB SuperCup, a warm-up tournament for the FIBA World Cup.
Trailing by as much as 12 points heading into the final frame, Canada's resiliency and poise under pressure rose to the occasion which helped them force overtime.
Three-consecutive baskets from Alexander, Barrett, and Kelly Olynk spearheaded Canada's fourth-quarter surge to trim their deficit to just a deuce, 91-89.
Just when Canada started to cruise their way into the game, Orlando Magic small forward Franz Wagner was able to halt their run after draining three shots from the charity stripe to get their lead back to five points.
Germany was looking to secure the victory after securing a 101-96 lead with only 41 seconds remaining in the game but Barrett scored five-straight points that forced an extra period.
The Germans kicked off the overtime on a high note after immediately draining a long-distance trey to break the 101-all deadlock.
However, Olynk and Barrett joined hands to help Canada retake the lead, 105-104, after draining back-to-back baskets in two consecutive offensive possessions.
With 3:21 remaining and Canada badly needing a basket to execute a lead change, Alexander answered the call after converting on a sweet step-back jumper.
Alexander wasn't done doing damage and followed his jump shot with two made shots from the free throw line that extended Canada's advantage to three points, 109-106.
Canada then protected their lead in the remainder of the game capped off by four-straight markers produced by Barrett who was waxing hot throughout the entire nip-and-tuck affair.
Barrett finished the game with 31 points built from an impressive 12/13 shooting percentage from the field.
Meanwhile, Alexander chipped in 25 points, eight rebounds, and six assists while Olynk had 21 markers.