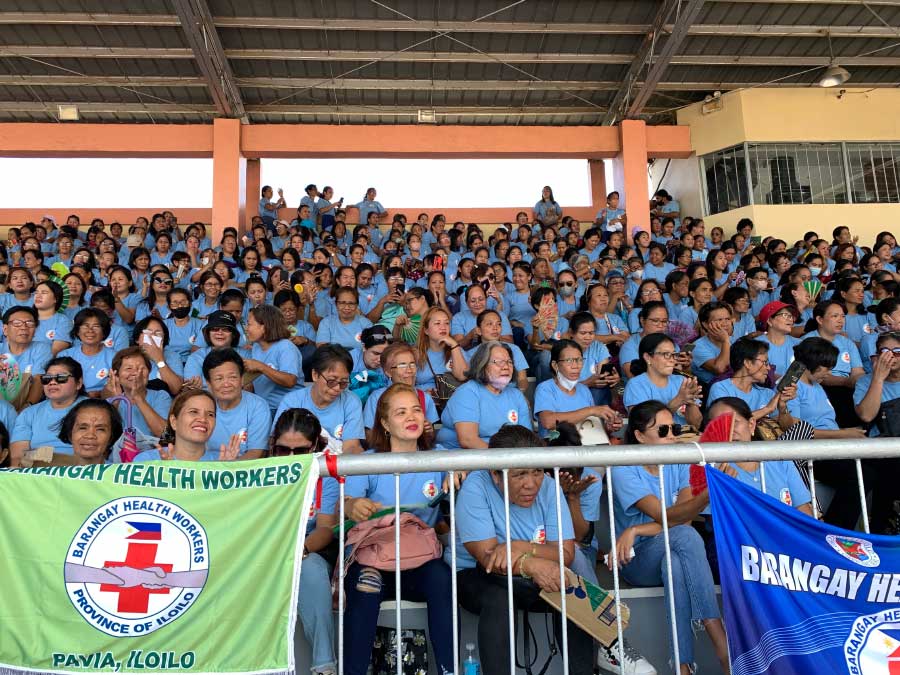 By Rjay Zuriaga Castor
The Iloilo provincial government lauded the valuable contribution of barangay health workers (BHW) who voluntarily rendered primary health and services in their communities in a province-wide congress on Thursday.
"I admire your dedication and service to the community, especially during the challenging time of the pandemic. As frontliners, you have sacrificed your lives to ensure the safety of the community," Iloilo Governor Arthur Defensor Jr. said in a pre-recorded message.
Defensor said BHWs are at the forefront of the implementation of basic health programs and services at the grassroots level.
He cited that with the BHWs' help, the province reached 90.73% of its target children for the measles-rubella (MR) and oral polio vaccine (OPV) inoculation.
According to data provided by the Iloilo Provincial Health Office (IPHO), the towns of Batad, Sara, Lemery, San Enrique, Sta. Barbara, Guimbal, Mina, Concepcion, and Tigbauan recorded a 100 percent vaccination rate.
Meanwhile, 20 local government units accomplished more than 95 percent of the target.
"Ang bug-os nga probinsya sang Iloilo nagapasalamat gid sa inyo bulig agud mapalab-ot natun ang serbisyo kag programa sa ikaayong lawas sa aton mga kabaranggayan," Defensor added.
Iloilo Provincial Health Office (IPHO) head Dr. Maria Socorro Quiñon said the congress is a "long overdue" gathering since the last congress was in 2018.
"During the pandemic wala man sila natun nakita, wala man sila natun napasalamatan… It's our way of thanking them for their contributions. Kadamo gid kita sang programs nga ara sila. Almost tanan nga health programs ara sila," Quiñon said.
This year's congress at the Iloilo Sports Complex gathered around 10, 000 BHWs across its five congressional districts and one component city.
According to Quiñon, like all volunteer workers, BHWs receive their honorarium from the barangay which is dependent on the Internal Revenue Allotment released to them by the Department of Budget and Management for funding. Among the incentives and benefits, such as hazard and subsistence allowance, as well as other non-monetary entitlements
Meanwhile, BHWs in the province receive a P4,000 honorarium every December from the provincial government.
Quiñon is hoping that with House Bill No. 6557 or Magna Carta for BHW approved on third and final reading by the House of Representatives, more individuals will voluntarily render primary healthcare services in their community.
"Sa gamay gani nga incentive, nakita natun how much ang contribution kag grabe ang commitment, how much more kung may dugang pa gid? Mas malipayon sila nga magaserbisyo," the IPHO head added.
Once the Magna Carta for BHW is enacted, accredited BHWs shall be entitled to incentives and benefits that include a hazard allowance of not less than P1,000 per month; transportation allowance of not less than P1,000 per month; and subsistence allowance for meals worth P100 per day.
Under the bill, they are also entitled to receive monthly honoraria of not less than P3,000.
BHWs will also receive a one-time retirement cash incentive, health benefits, insurance coverage and benefits, vacation and maternity leaves, and cash gifts.