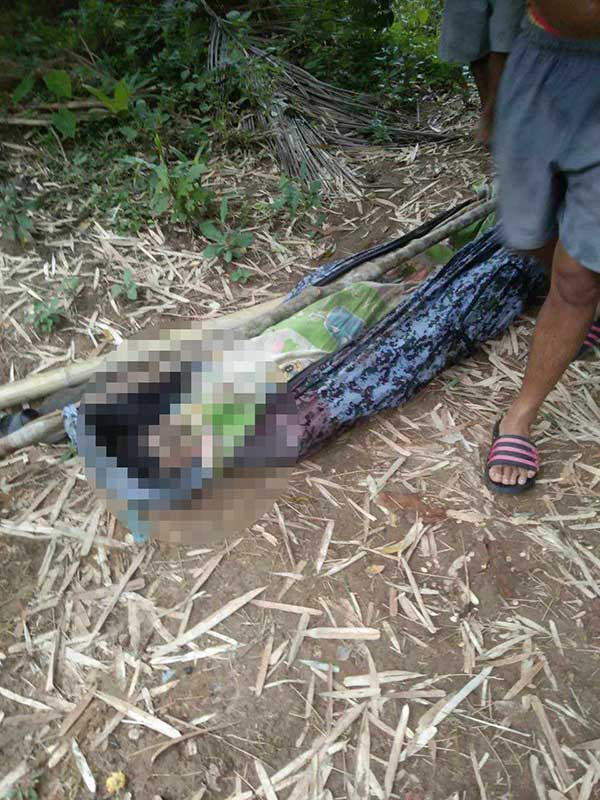 By Jennifer P. Rendon
Wrapped in a blanket and placed on an improvised hammock attached to two tree branches, the body of a suspected New People's Army (NPA) member was discovered several hours after an armed encounter at Lambunao, Iloilo.
Brigadier General Michael Samson, 301st Infantry Brigade commander, said they're still verifying the identity of the slain rebel.
He had two gunshot wounds on his back.
Residents of Barangay Jayobo discovered the body afternoon of September 19.
The body was found at Sitio Agadalusan, around 2 kilometers from where the firefight happened.
Members of the Lambunao Municipal Disaster Risk Reduction and Management Office (MDRRMO) and Lambunao Municipal Police Station, together with members of the 82nd Infantry Battalion, retrieved the body at 7:30 p.m. on Tuesday.
According to some residents, they have seen a few other men who were placed on a hammock.
They could have been wounded, they added.
Samson said they're not discounting that the rebels could have incurred other casualties.
"I just hope that if they have wounded or killed comrades, they could inform the barangay or municipal officials so that they could be properly treated or given a decent burial," he said.
It can be noted that a soldier was also killed while another was wounded during an encounter between members of the 82nd Infantry Battalion and around 10 members from the Baloy Platoon of the NPA Komiteng Rehiyon-Panay (KR-P)'s Central Front at around 6:23 a.m. on Tuesday.
The slain soldier was identified as Private First Class (PFC) Mars Echeverria.
He was declared dead on arrival at Western Visayas Medical Center.
Samson said the family of the wounded soldier asked that their kin's identity be withheld.
The armed rebels were allegedly conducting extortion activities and food foraging.
A firefight then ensued for about 20 minutes.
The local terrorists then scampered to different directions leaving behind two M16 Armalite rifles, two caliber .45 pistols, and subversive documents.