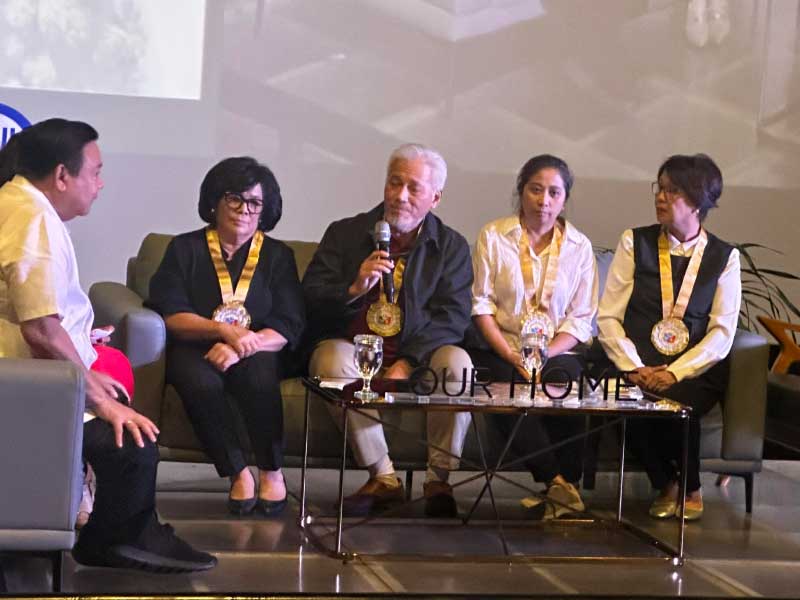 By Jennifer P. Rendon
Creating a greener footprint will be on top of Iloilo City's agenda, as it continues to brace for progress and development.
And designing a greener footprint is easier said than done. It's a concerted effort among stakeholders – both in the public and private sectors.
For starters, the Iloilo City government has partnered with the Department of Environment and Natural Resources (DENR), the United Architects of the Philippines (UAP), and SM in initiating a multi-stakeholders' forum.
Dubbed "Towards a Greener Footprint for Iloilo City," the forum was held at the SM City Iloilo in Mandurriao, Iloilo City on July 14.
The event featured DENR Secretary Ma. Antonia "Toni" Yulo-Loyzaga, landscape architect and urban planner Paulo Alcazaren, Architect Michaela Rosette Santos–Tayag, and Liza Silerio, Vice President for Corporate Compliance Group for SM Supermalls and Program Director for SM Environment and Sustainability, as speakers.
Iloilo City Mayor Jerry Treñas said the forum is an important milestone in Iloilo City's quest to become one of the top 5 Most Livable Highly Urbanized Cities in the Philippines by 2028.
"We are facing climate change and green architecture could mitigate the effect of climate change," said.
With the directions set by Loyzaga, Alcazaren, Tayag, and Silerio, architects and future architects could move forward into embracing green architecture in designing buildings.
By green architecture, it's about creating buildings with the lowest possible negative impact on the surrounding environment using sustainable materials and energy sources in construction. It is considered one of the biggest solutions to combat climate change.
Architects, engineers, and urban planners deemed that the concept of green architecture, complemented by modern technology, leads to sustainability and resiliency to the impact of climate change.
But as Tayag said, on top of designing buildings with the lowest possible negative impact, it is also important to note that green architecture also takes into consideration the significance of creating a healthy indoor environment for a building's inhabitants.
"There should be energy modesty," she added.
Meanwhile, as far as green architecture, Trenas said there are already buildings in the metropolis that incorporates the use of green architecture.
Green architecture ordinance 
Treñas said it's about time that the Iloilo City government come up with its Green Architecture ordinance.
"We have no existing ordinance that encourages owners of buildings to have green features in place," he said.
The green architecture ordinance will advocate the use of rainwater harvesting technology.
Treñas said they will also mull to give real property tax discounts to residential properties that will use solar panels to generate electricity.
The Iloilo City government has already developed several environmental-friendly initiatives that served as models to other local government units.
Among them is its 9-kilometer River Esplanade, which was developed with help from Alcazaren.
The renowned urban planner is now working to revive the 6 large city plazas of Iloilo City.
The goal must be to provide a minimum of 9 Public Parks and Open Space PPOS/person in Philippine cities and towns. These parks must all be within a 10-15 minute walk from work or home as in Singapore, Sydney, Melbourne, or New York City," he said.
Iloilo City has also been regarded as the Most Bike-Friendly City.
Iloilo boasts of an 11-kilometer bike lane that stretches from the Diversion Road going to different areas of the metropolis.
"We are really making Iloilo City a model because first we already have Aquino Ave, the Esplanade, and we also have three tree parks," Treñas said.
He added that with the architecture boom, it is crucial that urban planners, architects, and engineers would go for green architecture.
Meanwhile, Alcazaren enthused architects to do further study on landscape architecture.
There are over 70,000 practicing architects but there are only about 500 licensed architects in the Philippines.
Model version
For Loyzaga, Iloilo City is a version of the most beautiful coastal garden city.
She cited that Iloilo City has a major role in contributing to the national GDP and its contribution to regional GDP in 2021 was second only to Negros Occidental.
"However, its prosperity is both a promise and maybe a peril," she said.
Loyzaga noted the Esplanade and other features that have been invested in over time are known internationally and the conservation of built heritage highlights her culture.
However, "working together on these different aspects of urban growth is something that we will all need to do together. How do we green Iloilo City's footprint?"
She cited that the lack of accessible water and sanitation is felt by many living in coastal and geological hazard zones.
She also noted that the city generates 307 tons of solid waste a day.
As such, "these concerns should be solved progressively."
Loyzaga highlighted 13 points to help Iloilo City in achieving a greener footprint.
One of them is the conduct of greenhouse gas inventory.
She also advocated making agriculture and food distribution more efficient by scaling the logistics properly.
There's also a need for a risk-informed nexus governance to achieve a green footprint.
"We must seek a greener footprint to battle climate change. Every fraction of a degree counts," she said.
As Loyzaga highlighted the need for everyone to do their share, she pledged that the "DENR is with you in this fight in greening and bluing Iloilo City."