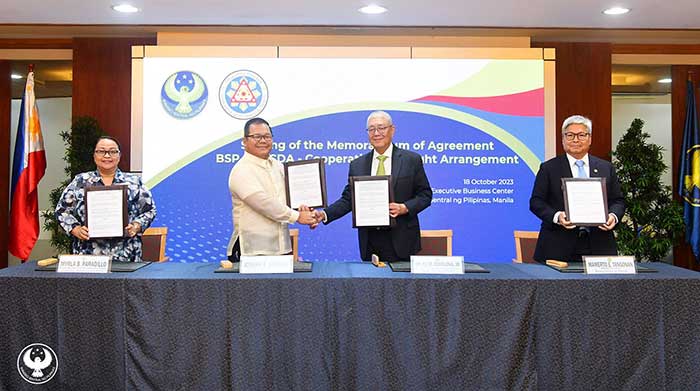 The Bangko Sentral ng Pilipinas (BSP) and the Cooperative Development Authority (CDA) signed on 18 October 2023 a Memorandum of Agreement (MOA) on the collaborative oversight and supervision of cooperatives that are electronic-money issuers and operators of payment systems, including those that deploy ATMs.
BSP Governor Eli M. Remolona, Jr. and CDA Chairman Joseph B. Encabo inked the MOA at the BSP Head Office in Manila amid the celebration of the National Cooperative Month this October.
The MOA sets out the arrangement between the BSP and CDA for the concurrent oversight and regulatory approach as well as the exchange of information to facilitate discharge of their respective mandates.
"This collaboration is crucial in developing a comprehensive regulatory framework that considers the unique challenges and opportunities authorities face. This collaboration will result in regulations that are proportionate, relevant, and future-proof. The approach will also avoid regulatory arbitrage and enhance the transparency and accountability of the cooperative sector," BSP Governor Eli M. Remolona, Jr. said.
The BSP is mandated under the National Payment Systems (NPS) Act to exercise oversight over NPS, which includes aforesaid covered cooperative. The cooperative oversight initiative provides coordination between the BSP and government agencies to avoid gaps, inefficiencies, duplication, and inconsistencies in regulations.
The onboarding of cooperatives in NPS supports the BSP's Digital Payments Transformation Roadmap and National Strategy for Financial Inclusion. Latest data indicate that financial cooperatives are present in 212 or 13 percent of unbanked municipalities.