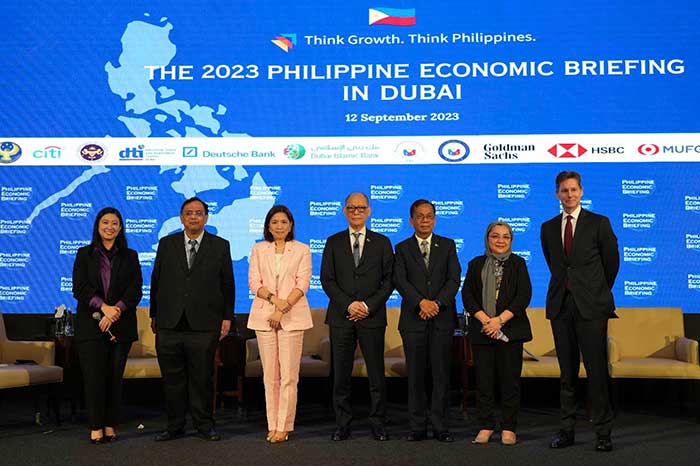 The Philippine banking system is a source of strength for the country's economy.
BSP Deputy Governor (DG) Francisco G. Dakila, Jr. declared this during the Philippine Economic Briefing (PEB) on 12 September 2023 in Dubai where the economic team discussed investment prospects in the Philippines, updates on the economy, the government's spending priorities, fiscal and infrastructure programs, and recent reforms that further opened the economy to foreign investors. Around 80 senior executives representing investment funds, corporates, business associations, and the media participated in this first  PEB in Dubai.
Deputy Governor Dakila said the country's banks are well-capitalized with a capital adequacy ratio (CAR) of 16.4 percent on a consolidated basis as of end-March 2023, above the minimum thresholds set by the BSP and the Bank for International Settlements.
The Philippine banking system's assets, deposits, and profits also grew year-on-year by 9.0 percent, 8.0 percent, and 26.1 percent, respectively, in June this year. "Indeed, the country's banking system continues to be an efficient and responsible intermediator of funds," he added.
BSP Assistant Governor Arifa A. Ala also highlighted the Philippine government's efforts to promote Islamic finance in the country, including the issuance of its first sovereign Sukuk or Shari'ah-compliant bonds, which can expand the Philippines' engagement with Islamic financial markets.
Sukuk are certificates that represent shares in the ownership of assets, services, projects, or investment activities. These are issued in accordance with Shari'ah principles.
Speakers of the PEB in Dubai included Philippine Ambassador to the United Arab Emirates Alfonso Ferdinand A. Ver, Department of Finance Secretary Benjamin E. Diokno, Department of Budget and Management Secretary Amenah F. Pangandaman, National Economic and Development Authority Secretary Arsenio M. Balisacan, Standard Chartered Regional Head of Global Subsidiaries Shada Elborno, and MUFG Global Corporate and Investment Banking MENA Chief Executive Officer Elyas Al Gaseer.