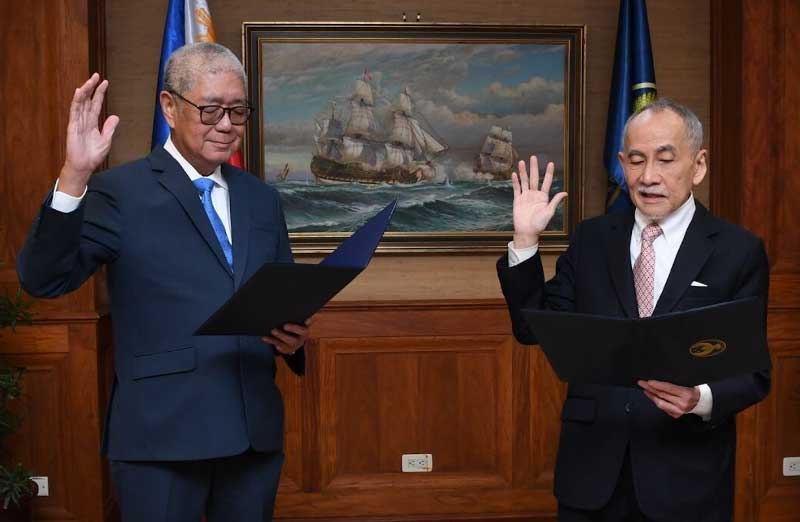 Bangko Sentral ng Pilipinas Governor Eli M. Remolona, Jr. (left) administered the oath of office to new Member of the Monetary Board (MBM) Romeo L. Bernardo in a ceremony held on 14 September 2023 at the BSP head office in Manila. MBM Bernardo will have a six-year term starting 14 September 2023.
The Monetary Board (MB), the BSP's highest policymaking body, is headed by Governor Remolona who concurrently serves as Chairman. The MBMs now include Finance Secretary Benjamin E. Diokno, V. Bruce J. Tolentino, Anita Linda R. Aquino, and Bernardo. Incoming MBM Rosalia V. De Leon will take her oath of office in the coming days.
MBM Bernardo was undersecretary of the Department of Finance (DOF) from 1990 to 1996 and worked at multilateral institutions, including the World Bank, International Monetary Fund, and Asian Development Bank. He has gained extensive private sector experience having served on the board of directors of the Bank of the Philippine Islands, Globe Telecom, Aboitiz Equity Ventures, Monde Nissin, RFM Corporation, and Philippine Investment Management, Inc. He was also chairman of the ALFM Family of Mutual Funds, lead Philippine advisor to GlobalSource Partners, co-founder and vice chair of the Foundation for Economic Freedom, and co-founder and president of financial advisory firm Lazaro Bernardo Tiu & Associates, Inc.
MBM Bernardo earned his Master of Arts in Development Economics from Williams College, Massachusetts. He graduated magna cum laude with a Bachelor of Science in Business Economics from the University of the Philippines.