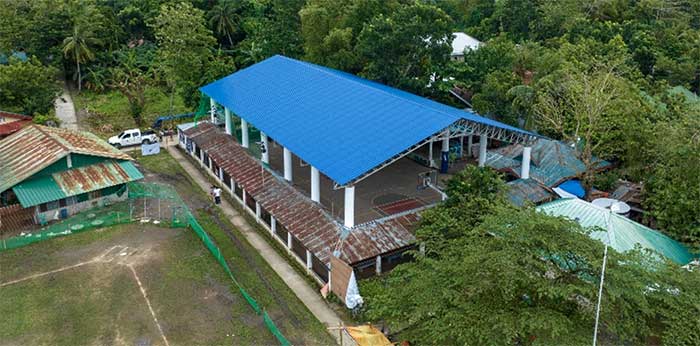 Fitness exercises and sports activities are essential parts of life to have a healthy body and sound mind.
These activities have become part of the daily routines of sports and fitness enthusiasts and the youth of Barangay Lupa in Sta. Barbara, Iloilo; however, staying active outdoors due to the changing climate.
To ensure that people have an all-weather venue for these activities, the Department of Public Works and Highways (DPWH), Iloilo 4th District Engineering Office is continuously providing multi-purpose buildings to provide a conducive venue for various activities in the community.
Citing the report of District Engineer Mario G. Soriano, OIC-Regional Director Sanny Boy O. Oropel said the completed covered gym in Barangay Lupa is built near the existing baseball field, providing an additional venue for sports development of the people, especially the young ones.
The Php 4.9-million structure includes the construction of a 16.5-meter by 30-meter building with 13 sets of reinforced concrete columns, 6 spans of roof framing, and electrical and painting works.
"This gym features sports utilities, training areas for a variety of sports, and indoor space for community gatherings. The design also accounted for inclement weather, ensuring usage in all seasons, extending utility value," OIC-RD Sanny Boy O. Oropel said.
"The construction of the multi-purpose covered gym is more than just a building project. It is a symbol of unity, progress, and community spirit, bringing the community together. The gym will serve as a beacon of endless communal gatherings, fitness sessions, and shared laughter," RD Oropel added.
The new covered gym will provide residents with a better and more convenient venue for social, religious, political, health and wellness, and reactional activities in their barangays.
"Significantly, this structure may also serve as temporary evacuation centers for the people in times of calamities and disasters, especially those families who are living in flood-prone or landslide-prone areas," RD Oropel stressed.
Meanwhile, DE Mario G. Soriano said this covered gym will protect individuals while they exercise, specifically during the summer when the extreme heat, or during rainy days can make it difficult to stay active outside.
"This covered gym can provide protection from the direct heat of the sun during sunny days or the rain and wind during rainy days. With a covered gym, individuals can exercise without fear of their workout being cut short due to inclement weather," DE Mario G. Soriano said.
"With a covered gym, people can continue doing their activities without worrying about the factors that can make an outdoor workout uncomfortable. A covered gym can also provide a more spacious environment, allowing individuals to move around more freely and safely, DE Soriano added.
"This may likewise serve as a temporary post-harvest facility during harvest season where our farmers can temporarily place their crops and other agricultural products for safekeeping," DE Soriano further said.
Other than providing quality roads, bridges, and flood control structures, DPWH continues to undertake significant infrastructures like multi-purpose buildings to provide local communities with better and safer public infrastructures. (DPWH-6)