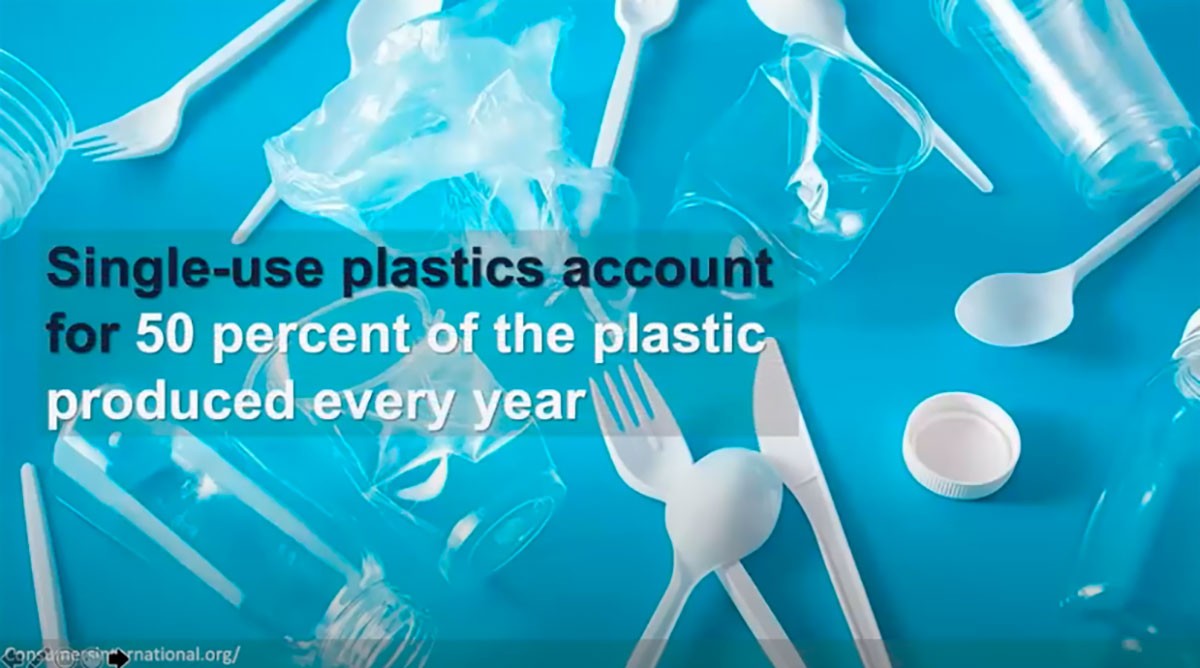 During the 1st Meeting of the Cabinet Cluster on Climate Change Adaptation, Mitigation and Disaster Risk Reduction (CCAM-DRR) Technical Working Group (TWG) on Circular Economy, Sustainable Consumption and Production, and Single-Use Plastics, the Climate Change Commission (CCC) recommended that the preferred approach of waste avoidance and reduction include the phasing out of single-use plastics.
"There is broad support for the campaign because we have at least 489 cities, municipalities, and provinces banning and regulating single-use plastics. A national ban is urgent to support our programs on climate-resilient recovery and environmental conservation, and to reduce our country's growing carbon footprint," said CCC Commissioner Rachel Herrera.
Government agencies presented ongoing initiatives and studies done with development and private sectors, which was created following the presentation to the Cabinet Cluster of the Resolution "Adopting the Principles of Sustainable Consumption and Production, Towards Regulation and Phaseout of Single-Use Plastics and a Responsible Transition to the Use of Environment-Friendly Products" on January 27, 2021. The meeting was held to align and consolidate sustainability and resilience efforts within the government.
"Indeed, plastic pollution is a public health, waste management, and climate change concern. And this really underscores the urgent need to promote circular economy and sustainable consumption and production in our governance and societal systems," said Assistant Director Vizminda Osorio of the Department of Environment and Natural Resources – Environment and Management Bureau (DENR-EMB), who chaired the TWG meeting.
"For DENR, strategies and programmatic activities for the prevention, reduction, and management of marine litter have been set. Our overarching goal is to have zero waste in Philippine waters by 2040 through responsibility and accountability," Dir. Osorio added as she presented the National Plan of Action for the Prevention, Reduction and Management of Marine Litter under their review.
Undersecretary Mercedita Sombilla of the National Economic and Development Authority (NEDA) said that "the implementation of the national action plan will require multi-stakeholder collaboration, adding that, "There is a need for legislative reforms on food and electronic waste management, extended producer responsibility and sustainable public procurement. Electronic waste is especially relevant with the increased demand for electronics during the pandemic quarantine."
For Undersecretary Ruth Castelo of the Department of Trade and Industries-Consumer Protection Group (DTI-CPG), making everybody understand the problem of plastic pollution is imperative. "It is the mindset that we need to change. We have expressed that doing away with single-use plastics needs to be included in the Department of Education's curriculum so we can shape the mindset of young Filipinos. Every member of the community including the youth must do something about plastic waste," said DTI Usec. Castelo.
The Department of Science and Technology (DOST) also conveyed their support and offered to provide the science and development of technologies. They shared their formation of an Environment Protection Committee and Technical Working Group to provide business management policies relevant to clean businesses.
The Office of the Cabinet Secretariat will look into a mechanism to ensure the effective implementation of each agency's plans and programs.
With support from the Department of Finance, experts from the World Bank (WB) were also asked to share their studies on plastic pollution in the Philippines, particularly the Top 10 plastics flowing through the Pasig River, and their insights on the formation of a Roadmap Towards Zero Single-Use Plastics in the country.
"The Philippines is significantly impacted by plastics pollution, but is now starting to take concrete actions to combat it. The Pasig River alone is one of the top 10 plastics polluted rivers in the world and is accompanied by a lot of health issues, repercussions in terms of economic loss," said the WB Environment, Natural Resources and Blue Economy Global Practice team led by Anjali Acharya and Junu Shrestha.
"Our plastic diagnostics study showed that plastic pollution in different sites along the Pasig River have different compositions. If we were to target reduction policies, having policies targeted on these plastics, we can identify what plastics to focus on," the team added.
Another upcoming World Bank study on the markets of plastic circularity showed that a striking 79% of all resin materials or recyclable plastic value is lost, highlighting opportunities for creating value from these materials that are normally considered "waste."
The meeting ended with expressions of support from the different agencies to the proposed Roadmap and an agreement to set technical meetings to further streamline programs, initiatives and advocacy narratives.