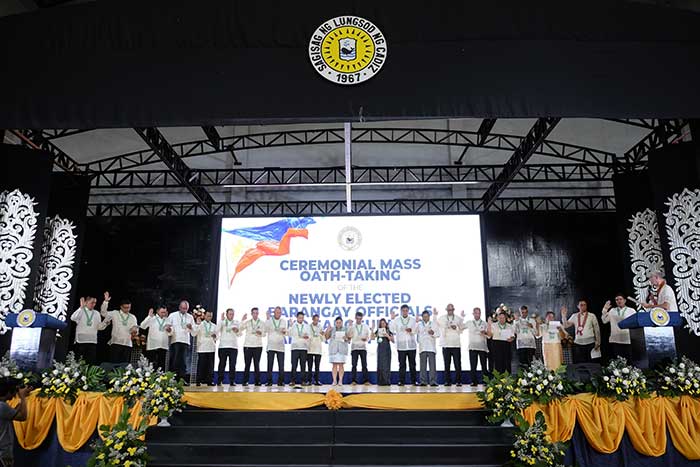 BACOLOD City – Negros Occidental governor Eugenio Jose Lacson told newly-elected Barangay and Sanguniang Kabataan officials (BSKOs) in 22 villages in Cadiz City to "serve with integrity, and have a solemn commitment to represent the voice of the people."
Lacson and second district Rep. Alfredo Maranon III, were the guest of honor in the mass oathtaking of Cadiz BSKOs held at Cadiz Arena Friday.
Lacson and Maranon sworn in the barangay and SK chairmen, respectively, while Cadiz City Mayor Salvador Escalante Jr. administered the oath of office of all barangay and SK kagawads.
Lacson said that as BSKOs, serving the fellow Negrenses ain't just with dedication, and sense of duty, but also with integrity.
He also reminded them that the assumption of public office is always beyond mere administrative tasks.
"Thus, starting today, please, perform!" Lacson added.
He further asked the newly-inducted BKOs to take good care of the trust and confidence of the majority of the people that catapulted them to power.
Marañon, on the other hand, dared the Cadiz BSKOs not just to serve, rathee lead with integrity, transparency and inclusivity.
"Serve to the best of your ability, and I will support your or our vision for the 2nd District and/or for the entire province," the solon vowed.
Wrapping up the event was, Department of Interior Local Government (DILG)-Cadiz City head Shalimar Nicor, who simply advised BSKOs to (always) carry on the basic mantra in public service: "Public office is a public trust."