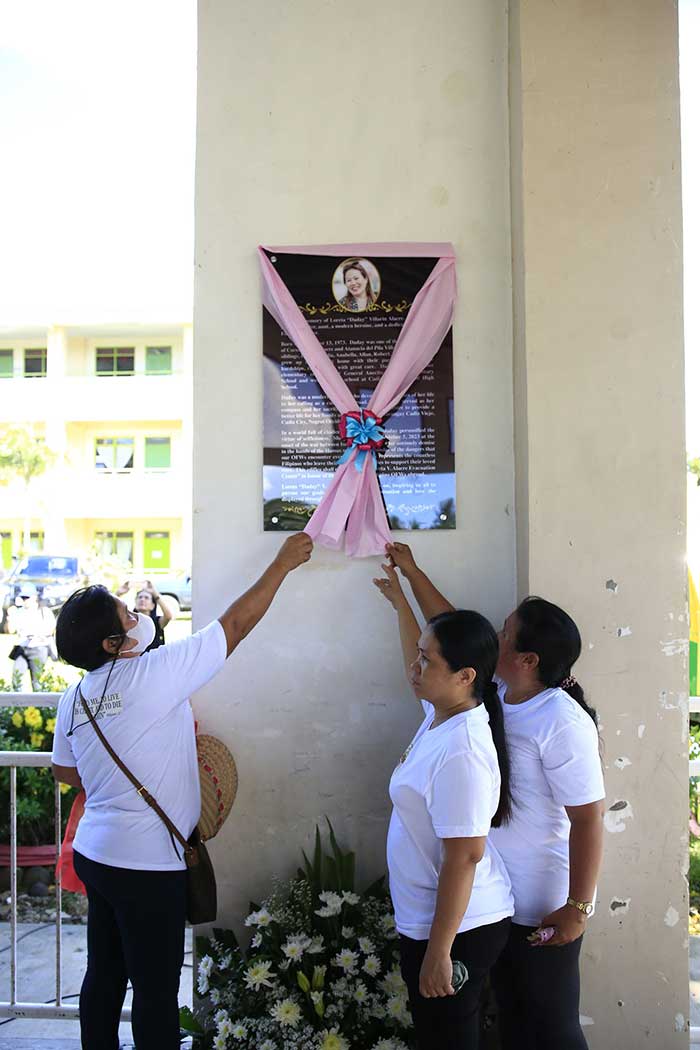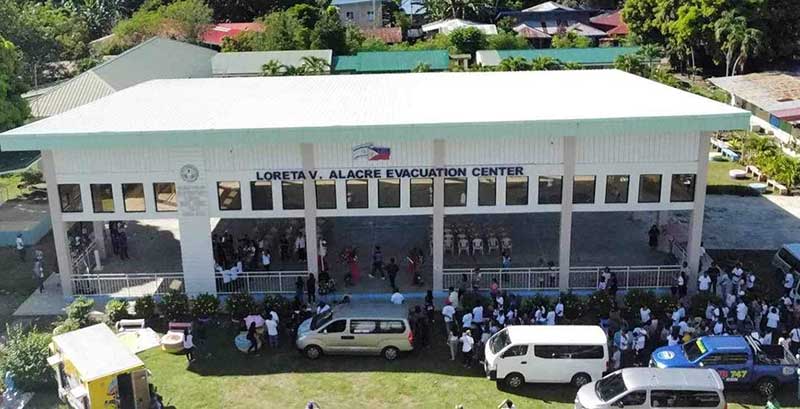 By Glazyl Y. Masculino
BACOLOD City – "Daday will be with us forever."
This was stressed by Mayor Salvador Escalante Jr. as he led the unveiling of a marker for the Loreta (Daday) V. Alacre Evacuation Center (LVAEC) at the Cadiz Viejo National High School (CVNHS) compound in Cadiz City, Negros Occidental yesterday.
The unveiling of the marker was held hours before Alacre was laid to rest at Caduha-an Public Cemetery in Barangay Caduha-an.
Alacre, 49, of Barangay Cadiz Viejo, was an overseas Filipino worker (OFW) in Tel Aviv who perished when Hamas militants staged an attack against Israel in the Gaza Strip while she was attending a music festival on October 7. She was among the four Filipino fatalities in the ongoing war.
She was a caregiver based in Tel Aviv for about 15 years and a breadwinner of her family.
Naming the newly-established evacuation center after her is the city government's way of saying "Thank You, Daday!" for putting Cadiz on the world map as "Home to a Great Heroine", Escalante said in a statement.
"She's our 'Bagong Bayani' thus she deserves this lasting marker within an edifice fit and worthy to be her remembrance to all of us," he added.
Escalante said that the LVAEC will always serve as a reminder to all Cadiznons that they have their own "heroine."
"She (Daday) was an icon of perseverance, persistency, hope and selflessness," the mayor added.
The mayor also thanked the city council for passing a resolution on LVAEC.
"She's finally out of our sight, but her lasting memories highlighted by her unique heroism will forever linger in us (Cadiznons)," Escalante said.
He appealed to other families of OFWs from Cadiz to be "prudent" in spending the income of their loved ones abroad.
"May Daday's case serve as an eye opener to all OFWs from Cadiz and their respective families to always value their earnings by being canny enough," he said.
The city government, on the other hand, will talk again with the Alacre family as to the possible lifetime assistance it could extend – be it employment of any of the seven remaining siblings, scholarship for nieces and nephews, livelihood, among others.
"We will do our share in helping Daday realize her 'dreams' (even in death) for her beloved family," the mayor said.
Last month, Israeli Consul Moti Cohen, who flew to the Philippines to personally console the family and visit Alacre's wake, had also assured assistance to the victim's family.