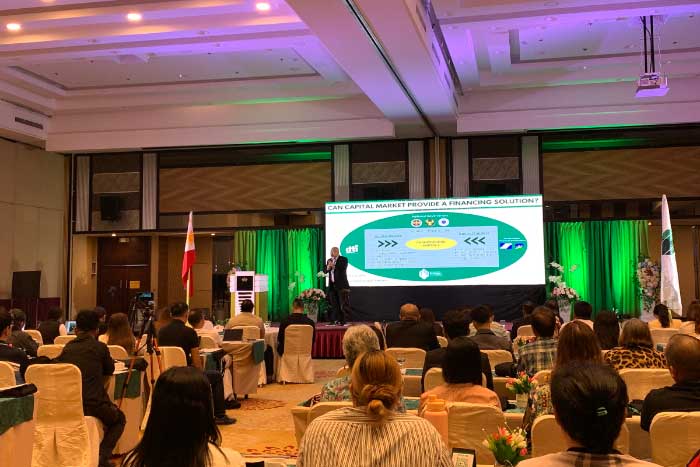 By Rjay Zuriaga Castor
The Securities and Exchange Commission (SEC) is pushing start-up businesses and micro, small and medium enterprises (MSMEs) in Iloilo to tap the capital market, particularly crowdfunding platforms, to raise funds for business expansion.
SEC, through its Office for the Advancement of Strategic Investments in SMEs (OASIS), brought to Iloilo its year-long MSMEs and startups one-day roadshow on Monday, which gathered at least 150 companies and businesses.
"This event is part of the monthly nationwide roadshows that the SEC is organizing to promote and raise awareness on the various ways our MSMEs can access the capital market for the financing needs," Commissioner Kelvin Lester Lee said, emphasizing the "need to broaden financing increasements available for MSMEs."
Lee added that businesses can acquire alternative fundraising sources through the capital market such as crowdfunding.
In its rules and regulations governing crowdfunding, SEC noted that crowdfunding involves the offer or sale of securities of a limited scale for start-ups and MSMEs through a program or application of a licensed intermediary.
There are three licensed crowdfunding intermediaries registered with the SEC: Investree Philippines, SeedIn Technology, Inc. and Eastern Securities Development Corporation.
Citing a United Nations Development Program report, Lee noted MSMEs as the country's "economic backbone," constituting 99.5% of businesses, offering 63% of jobs to Filipino workers, and contributing approximately 40% to the country's Gross Domestic Product.
Despite this, he added that 67% of the country's MSMEs continue to experience financial and credit constraints.
"Most of them rely on internal sources for capital needs. While those who apply for traditional bank loans usually face difficulty [such as] documentation, high-interest rates, and mandatory collateral requirements, which can be a challenge," he explained.
The roadshow is part of the SEC's goal to achieve at least 888 companies accessing the capital market before the SEC's 88th anniversary in 2024.
As of July 2023, 630 companies or 70.95 percent of the 888 target have listed and accessed the capital market.
Iloilo Mayor Jerry Treñas said the roadshow is a "platform for knowledge exchange, networking, and collaboration."
"This event will greatly contribute to our vision of becoming a business hub in this part of the country," he added.
SEC has already conducted roadshows in Davao, Cebu, Cagayan de Oro, Zamboanga, Negros Occidental, and recently in Iloilo. The next stop of the roadshow will be in Tarlac, Baguio, Legazpi, and Tacloban.