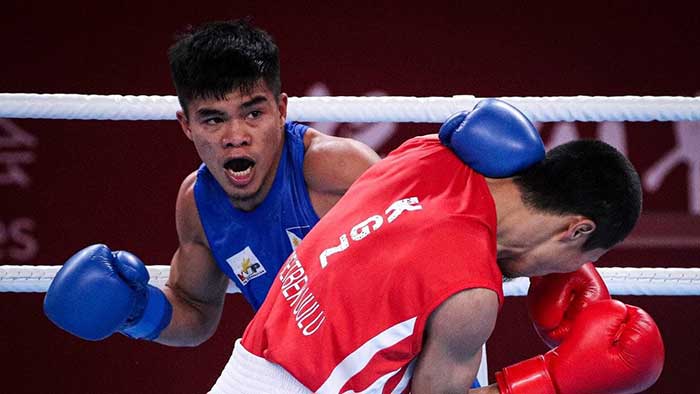 By Leobert Julian A. de la Peña
Filipino boxing star Carlo Paalam's gold medal hunt is still alive after claiming a quarterfinal seat in the ongoing Asian Games men's 57-kg division last September 30, 2023, held in Hangzhou, China.
Paalam pulled off a clutch split decision victory over Munarbek Seiitbek-Uulu of Kyrgyzstan, 30-27, 29-28, 29-28, 29-28, 28-29.
The Tokyo Olympic silver medalist was bound for another dominant outing and was locked in against Seiitbek-Uulu when he swept the first round, 5-0.
Despite another huge disadvantage in the reach and height, Paalam used his quickness and footwork advantage to score early points via a barrage of right jabs and counter hooks.
Sensing that he was already down in the scorecards, the representative from Kyrgyzstan turned it up in the second round and was more aggressive in throwing long-distance punches that kept Paalam away from the inside.
Seiitbek-Uulu's second-round performance earned him enough scores to turn the tables around, edging Paalam to a 3-2 decision heading into the third and final frame.
It was a back-and-forth third-round showdown between the two warriors as they started the round with fireworks and exchanged combinations in the first 20 seconds.
However, Paalam's accurate counter-punching became the catalyst of the fight as the more experienced fighter hit Seiitbek-Uulu's jaw when he snuck in the left straight.
Paalam then put the icing on the cake when he ended the fight with a crisp 1-2 attack that connected to Seiitbek-Uulu's head followed up by a soft right-hand jab.