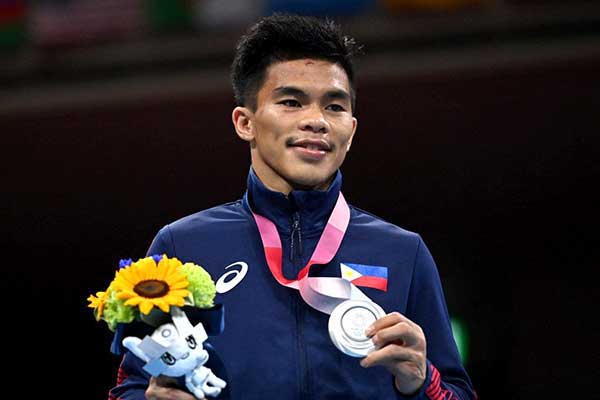 By Leobert Julian A. de la Peña
There will be no goodbyes for Carlo Paalam.
The Tokyo Olympic silver medalist kicked off his Asian Games boxing campaign with an impressive victory over Mohammad Jajeh Abu of Jordan last September 26, 2023, held at the Hangzhou Gymnasium in China.
Despite facing a taller foe who possessed a wide-reach advantage, the savvy Filipino pug stuck to his game plan and picked the Jordanian apart in three full rounds.
Paalam didn't allow Abu to capitalize on his length and immediately cut the distance by going inside and pressuring the mid-section.
As the match referee gave them a warning for staying passive, Paalam quickly unleashed a series of 1-2 straight combinations that earned him a clean sweep in the first round.
Abu bounced back in the following frame as he was able to use his reach and land several jabs to Paalam's jaw.
Despite the offense he took, Paalam turned things around with only 40 seconds left in the second round when he mixed his combinations, hitting Abu's body while following it up with a hook to the face.
Abu's aggressiveness in the first minute of the second round helped him persuade the two judges to give him the 10-9 win but the other three still scored it in favor of the Filipino boxer.
In the third round, Paalam became more relaxed and backpedaled his way out every time Abu threw a flurry in desperation to earn the final scores.
Paalam then officially shut the Jordanian after hitting three clean shots to the body while ending his combination with a sneaky left jab.
With the victory, Paalam will be advancing to the next round of the men's 57-kg category together with Eumir Marcial who dominated his foe in his first fight in the light heavyweight division.