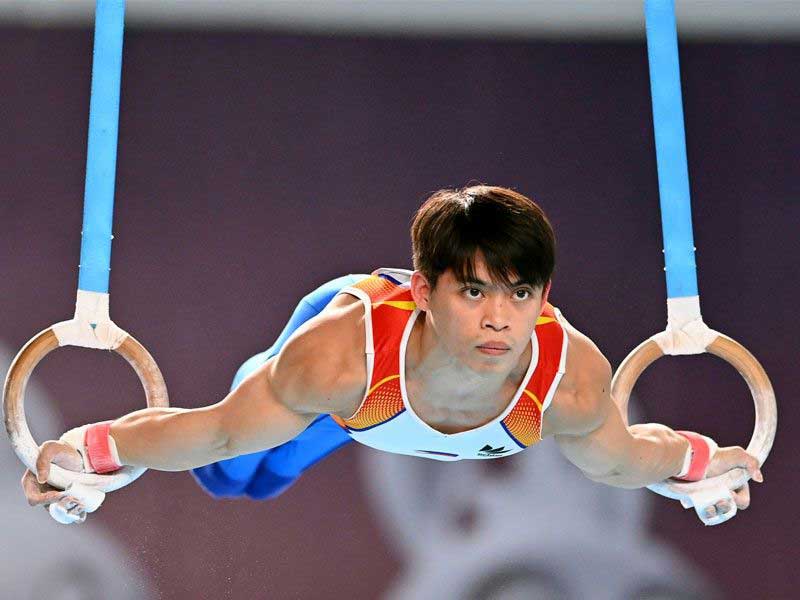 By Leobert Julian A. de la Peña
Filipino gymnastics superstar Carlos Yulo saved his best for last and salvaged a clutch qualification for the 2024 Paris Olympics after a stellar floor exercise performance in the Artistic Gymnastics World Championships last October 1, 2023, held in Antwerp, Belgium.
Yulo crashed early in the competition after fumbling his routine in the vault event on the first day and was already clouded with pressure to perform at the highest level to earn a seat in the Paris Olympics next year.
All eyes were on the Filipino during the floor exercise event, and he delivered.
Yulo was laser-focused on redeeming himself and placed third during the floor exercise, tallying an impressive 14.600 points.
Scoring ahead of Yulo in his campaign during the final event were Israel's Artem Dolgopyat and Frederick Richard of USA.
With the win, Yulo will then advance to the final round on October 7, 2023, after barging into the top eight finalists that will vie for the coveted World Gymnastics floor exercise title.
It was an exceptional bounce back from the Filipino gymnast after completing his floor exercise routine with flawlessness and sharp accuracy.
Despite not getting first place heading into the finals, Yulo's third-place bounce back was still a positive sign with only four days remaining until the championship stage.
Yulo just joined Filipino pole vaulting sensation EJ Obiena and co-gymnast Aleah Finnegan as the first three athletes to book a spot in the Paris Olympics.