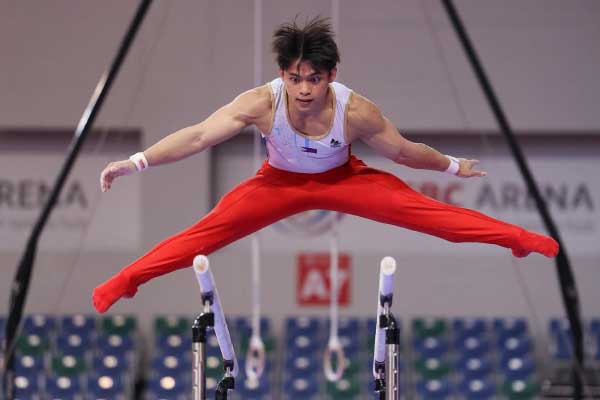 By Leobert Julian A. de la Peña
Carlos Yulo just ended his Artistic Gymnastics Asian Championships campaign in style after clinching two more gold medals last June 18, 2023, held in Singapore.
The Tokyo Olympian took home the championship titles in both the vault and the parallel bars event, racking up his gold medal individual tally to three.
Yulo garnered a total of 15.266 points in the parallel bars while tallying 14.299 points in the vault to remain a triple champion in the tournament.
It was a close contest in the parallel bars after Japan's Oka Shinnosuke and Yin Dehang of China also pulled off tremendous routines to keep themselves close to Yulo's score.
The Japanese bet had 15.133 while Dehang got 15.100 but was still not enough to edge the Filipino superstar in the Asian Championships stage.
Completing the podium finish in the vault category are Uzbekistan's Abdulaziz Mirlaev, 14.083 and Kim Jaeho of Korea, 13.766.
Before his double-gold medal haul, Yulo already achieved his goal after qualifying in the upcoming World Gymnastics Championships in Belgium this September.
Yulo registered a total of 85.93 points to secure the silver medal in the men's individual all-around and replicated his achievement when he also nabbed second place in the last edition of the Asian Gymnastics Championships.
Yulo only needed to crack into the Top 8 of the prestigious event in Singapore but the Filipino chose to go all out to reward the Philippines with another podium finish.
If Yulo will be able to get over the hump in the World Championships in Belgium, he will then earn an outright seat in the Paris Games.