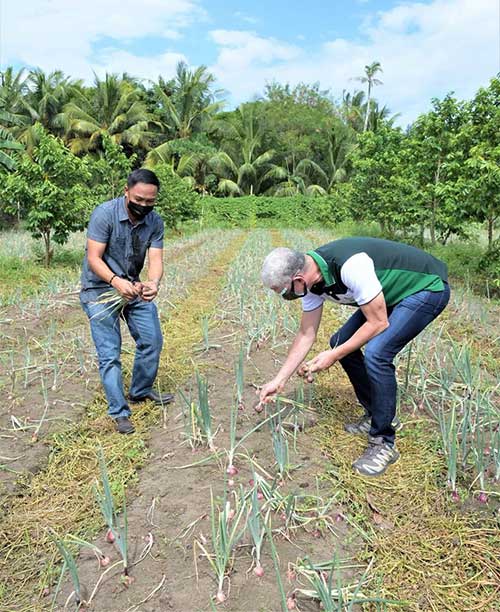 By Dolly Yasa
BACOLOD City – The Office of the Provincial Agriculturist (OPA) said Cauayan town in southern Negros Occidental has a big potential for bulb onion production that will improve the livelihood of the local farmers.
A report from the Public Information Office of the provincial government said that the Cauayan farmers association's onion production started two years ago in a farm located at Tabuk Suba, Brgy. Poblacion, and has been their source of livelihood aside from growing other high value crops.
Governor Eugenio Jose Lacson visited the farm during the weekend and assessed how the provincial government through OPA could further assist the farmers.
Cauayan has a big potential for onion production because of its favorable location, good weather condition, and seedlings adaptability.
The farmers target to increase their production and acquire postharvest handling facilities.
Joining the governor in the farm visit were Board Member Jeffrey Tubola, Brgy. Poblacion Punong Barangay Ernie Magbanua, and OPA Agricultural Technologist, Sammy Bonggo, among others.
Last year, the OPA also conducted a farmers' training in Garlic and Onion Production in the cities of Cadiz and Bago, and the Municipality of La Castellana. (With a report from Capitol PIO)