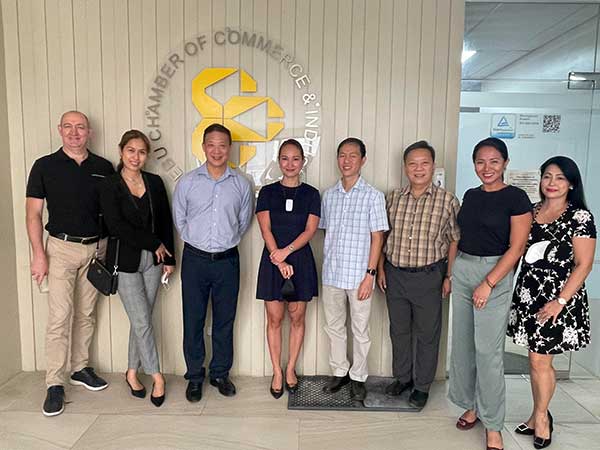 NUSTAR Resort and Casino got a boost from the Cebu Chamber of Commerce and Industry (CCCI), which welcomed the new integrated luxury resort development by offering it assistance in establishing its presence in Cebu.
Charles Kenneth Co, newly elected president of CCCI, and Felix Taguiam, immediate past president, briefed key NUSTAR executives led by Trevor Hammond, vice president of gaming operations, on the current and prospective business and tourism environment in Cebu during an in-person meeting on March 8, 2022 at the CCCI building in Cebu City.
Other NUSTAR executives present were Katrina Mae de Jesus, head of business development; Paul Rene Lee, general manager of Fili Hotel; and JoAnn Castillo, director of sales and marketing of Fili, which is the homegrown five-star hotel located within NUSTAR. Also with them was NUSTAR public relations specialist Noreen Tormis.
The courtesy visit of NUSTAR executives to CCCI became an opportunity for both parties to lay out areas where they can work together especially with the Cebu Business Month (CBM) coming up.
Brigitte Lim, overall chairperson of CBM 2022, and Maribel Melgar, head of CCCI's CBM division, joined Co and Taguiam in briefing the NUSTAR executives about this year's CBM.
"Your timing is perfect!" Taguiam told the NUSTAR executives, pointing out the timeliness the multi-billion-peso facility opens. Travel restrictions have eased up, the full vaccination of Metro Cebu residents is almost done, and the tourism sector is resuming operation, Taguiam said. Taguiam as immediate past president has a year of holdover to help Co carry out CCCI's plans and programs.
Taguiam also said the meeting with NUSTAR executives was the first in-person meeting CCCI has allowed since the Covid restrictions began in 2020.
Despite the long Covid pandemic and the massive damage left by Super Typhoon Odette in December 2021, NUSTAR has not stopped the development, an indication that both NUSTAR and CCCI see as their optimism in the Cebu economy revving up.
CCCI also offered membership to NUSTAR.
NUSTAR is a nine-hectare integrated resort facility located in Kawit Point at the South Reclamation Properties. It is developed by Universal Hotels and Resorts Inc. (UHRI).
For more information about NUSTAR, visit Facebook.com/NUSTARCebu or their website nustar.ph.