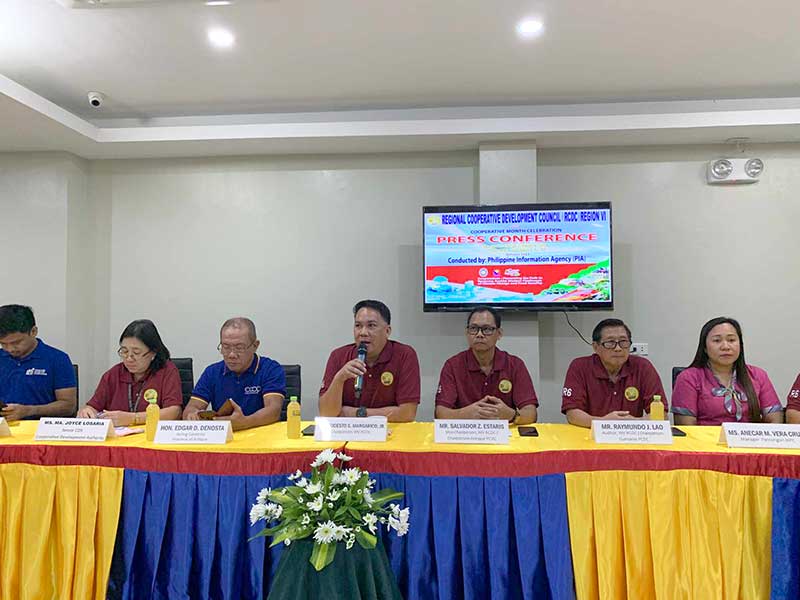 By Rjay Zuriaga Castor
The Cooperative Development Authority-Region 6 (CDA-6) launched the month-long National Cooperative Month this year with a region-wide synchronized hanging of streamers on October 1.
CDA-6 Senior Cooperative Development Specialist Ma. Joyce Losaria said the celebration showcases the accomplishments and impact of cooperatives within their communities and even on a broader scale.
"It serves as an opportunity to celebrate the spirit of cooperation, promote awareness about the cooperative movement, and foster a deeper understanding of the role of cooperatives that play in socio-economic development," she said in a press conference on Monday.
Modesto Margarico Jr., chairperson of the Western Visayas Regional Cooperative Development Council (WV RCDC), cooperatives are a significant entity and "a force to reckon with in the near future."
He stressed that cooperatives have now expanded their clusters from credit and financial services, banking, and human services to education and advocacy, agriculture and aquaculture, as well as public utilities.
"They are significant, not only to the economic aspect, giving additional livelihood, additional income to the entire membership," he added.
Margarico stressed that cooperatives are now visible in all aspects of the community, noting that, "we are contributing in the community services and the economic side."
CDA-6 said the month of October will be packed with events such as cooperative trade fairs across provinces, a cooperative night featuring a dance contest and the crowning of Mr. and Ms. Cooperative, a cooperative Olympics in Antique, region-wide zumba challenge, training on the fundamentals of cooperatives, and a caravan dedicated to mangrove and upland tree planting in Negros Occidental, among others.
This year's theme is "Cooperatives: Pioneering the Path to Recovery Amidst Modern Challenges of Climate Change and Food Security."
The CDA said the theme "underscores the critical role of cooperatives in addressing contemporary global challenges. Cooperatives serve as catalysts for sustainable agriculture, resilience against climate change impacts, and ensuring food security."
It added that the collaborative and community-oriented approach of the cooperatives is instrumental in fostering recovery and building a more secure and environmentally sustainable future.
The celebration of Cooperatives Month is mandated by Republic Act No. 11502 s. 2020, titled declaring the month of October as "National Cooperative Month", which calls for the "conduct activities and programs that promote the principles and values of cooperatives and encourage cooperative movement."
Former president Rodrigo R. Duterte on December 16, 2020, but prior to this, then-President Gloria Macapagal-Arroyo in 2003, issued Proclamation No. 493 designating the celebration "to encourage wider participation of all sectors of society in nation-building through cooperativism."
The CDA-6 said there are around 1,920 cooperatives registered in the region, with only 710 issued with a Certificate of Compliance.