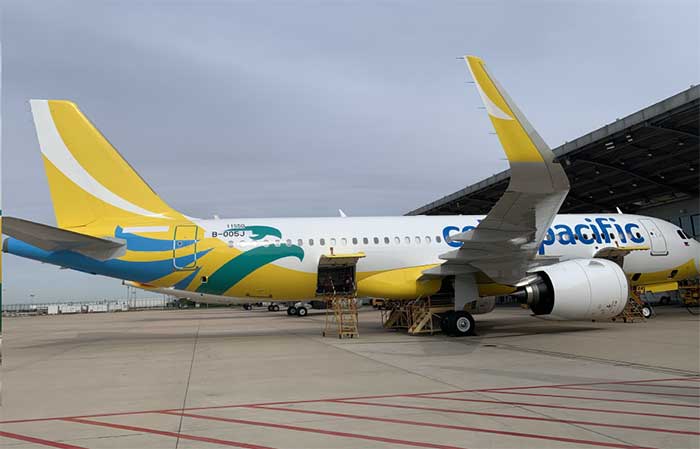 Cebu Pacific (PSE: CEB), the Philippines' leading carrier, received its 13th aircraft delivery this year, a brand-new Airbus A320neo, to continuously address the growing demand for air travel and strengthen the airline's operational resiliency.
The aircraft, powered by sustainable aviation fuel (SAF) on its delivery flight, arrived at the Ninoy Aquino International Airport in Manila on October 25 from Airbus' facility in Tianjin, China. It formally entered into service on November 1.
"This aircraft delivery supports our goal to make our operations more reliable while continuing to provide safe, reliable, and affordable air travel to our passengers. Our ongoing investment in SAF is also a crucial step for our decarbonization efforts, paving the way for a more sustainable future in air travel," said Alex Reyes, CEB Chief Strategy Officer.
CEB is expecting a total of 19 aircraft deliveries for 2023, including six deliveries before the end of the year.
CEB currently operates one of the youngest fleets in the world, with its diversified fleet mix of 74 aircraft enabling the widest network coverage in the Philippines. It has six Airbus 330, 33 Airbus 320, 19 Airbus 321, and 16 ATR turboprop aircraft.
The airline also aims to transition to an all-NEO fleet by 2028 and will incorporate SAF for its entire commercial network by 2030.
On October 18, CEB signed a memorandum of understanding with Neste, the world's leading producer of SAF, to explore the supply and purchase of SAF in Asia Pacific. A week later, the airline flew its first-ever commercial flight powered by SAF from Japan.
SAF is a drop-in fuel with similar characteristics as conventional jet fuels. It does not require any adaptations to the aircraft or engines and does not have any negative impact on performance. The use of SAF results in up to 80% reduction in carbon emissions across the fuel's lifecycle.
For more information, visit: www.cebupacificair.com.