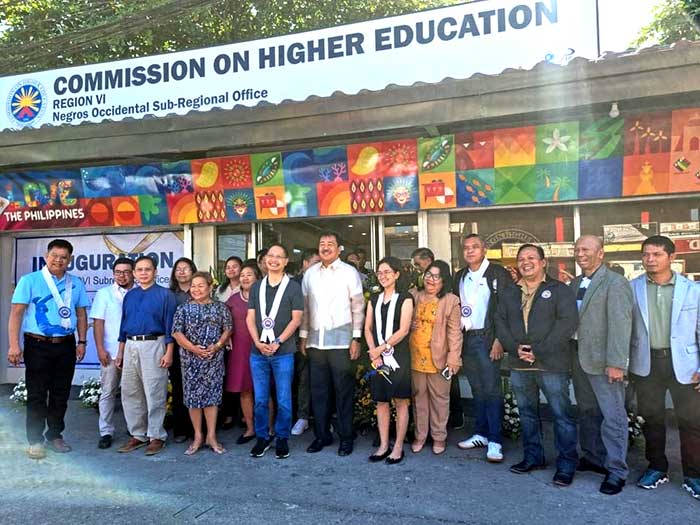 By Glazyl Y. Masculino
BACOLOD City – Students here and in Negros Occidental will no longer go to the next island and visit Iloilo to process their documents with the Commission on Higher Education (CHED).
This, after the CHED opened its new satellite office in Talisay City to facilitate delivery of frontline services in Western Visayas.
CHED Chairman Popoy De Vera, along with third district rep. Francisco "Kiko" Benitez, CHED-6 director Raul Alvarez Jr., and Executive Director Cinderella Benitez-Jaro led the inauguration of the CHED-6 subregional office at Carlos Hilado Memorial State University (CHMSU) in Talisay City on Friday, October 20.
De Vera, in a statement, noted that the implementation of government programs will remain challenging in an archipelago of more than 7,000 islands. Thus, he stressed the need to establish government facilities, particularly in island provinces.
Frontline services of CHED include the issuance of certifications, special orders, and scholarships, among others.
With this development, other pertinent transactions in the CHED-6 can now be easily accessed and processed by the provincial higher education institutions and their stakeholders.
De Vera thanked education champions, especially Cong. Benitez and Alvarez for facilitating the establishment of the CHED subregional office.
"This shows that we are serious in bringing services closer to the people," he said, as he also thanked CHSMU President Dr. Norberto Mangulabnan for making this a reality.
For his part, Cong. Benitez said they have been hoping for the establishment of a subregional office in the province because of its large population.
"Now, we have one for CHED. Rest assured, we will work in the Congress to further the cause of education and to help CHED specifically," he added.
CHED-6 in Iloilo City has its jurisdiction over the 157 higher education institutions in the whole region, with stakeholders in the province, having to travel at least two hours, via inter­island ferry, for CHED transactions.
The Talisay office will provide easy access to the provincial higher education institutions and their stakeholders and will surely ensure client satisfaction through efficient, effective, and inclusive delivery of frontline services.
In line with further improving the delivery of services of the Commission, De Vera also urged the universities and colleges to invest in technology and digitize their documents and processes.
"If we combine our physical deployment in the provinces plus electronic intervention, our students, faculty, and other stakeholders will receive our services faster and better," he said.