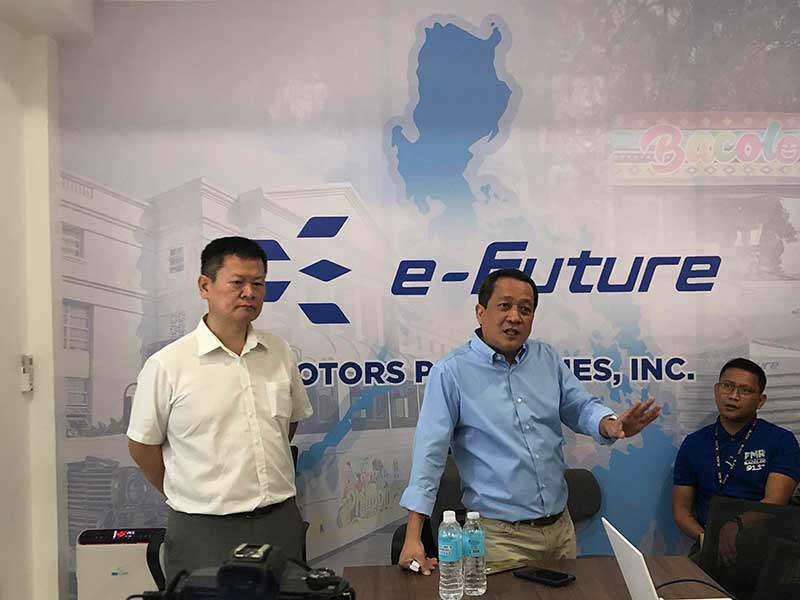 By Glazyl Y. Masculino
BACOLOD City – The e-Future Motors Philippines Inc. under the China-based Jiangsu Fengchuen New Energy Power Technology Co. Ltd. is planning to conduct a free training for drivers and maintenance technicians before the arrival of the 36 units of electric jeepneys here by the end of November.
Robert Cerrada, e-Future chief operating officer, in a press briefing yesterday, said that it is very important to learn the diagnostics of electric vehicles because these are totally different from traditional vehicles.
Cerrada said that the driving component is the easy part, but the more complicated part is the diagnostic or troubleshooting of the vehicle.
"They have to be really trained, otherwise mapatay ni sila kung magsala sila kuti, kay electric nga daan," he said.
Cerrada said that the training will also cover technicians from accredited and reputable big car repair shops here. He noted that they have identified at least four big shops that can be part of the training.
Through the training, they will be able to know how to repair and troubleshoot the vehicle safely, he said.
Last July, the local government here launched the e-jeepney manufactured by Jiangsu Fengchuen New Energy Power Technology Co. Ltd. It can accommodate 21 persons, and is equipped with an air conditioner with four speakers, a radio, a four-way closed circuit television camera (CCTV), and a global positioning system (GPS). It also has a front door for entry and a rear door for emergencies.
The city government is currently working on how to put up charging stations for the said vehicles here.
The firm also earlier said that it will construct its electric vehicle plant here – the first in the country if it pushes through.
Cerrada said that putting up a plant here depends on the demand for electric vehicles. But, he said that they are looking into establishing the plant here in two to three years.
Cerrada said that they wanted Bacolod to be the model and pilot city for electric vehicles in the country before expanding their reach to other areas.
"When everything is in place in Bacolod and running well, we can replicate this in other cities smoothly," he added.
Meanwhile, BK Shin, e-Future chief executive officer, said that the company has initially spent P11.5 million to bring the said project to the Philippines.